PRT-B50
PRO TREK's ability to combine the best that technology has to offer and innovative designs has made it the timepiece of choice for climbers, hikers, campers, and other outdoor enthusiasts.
Shop Now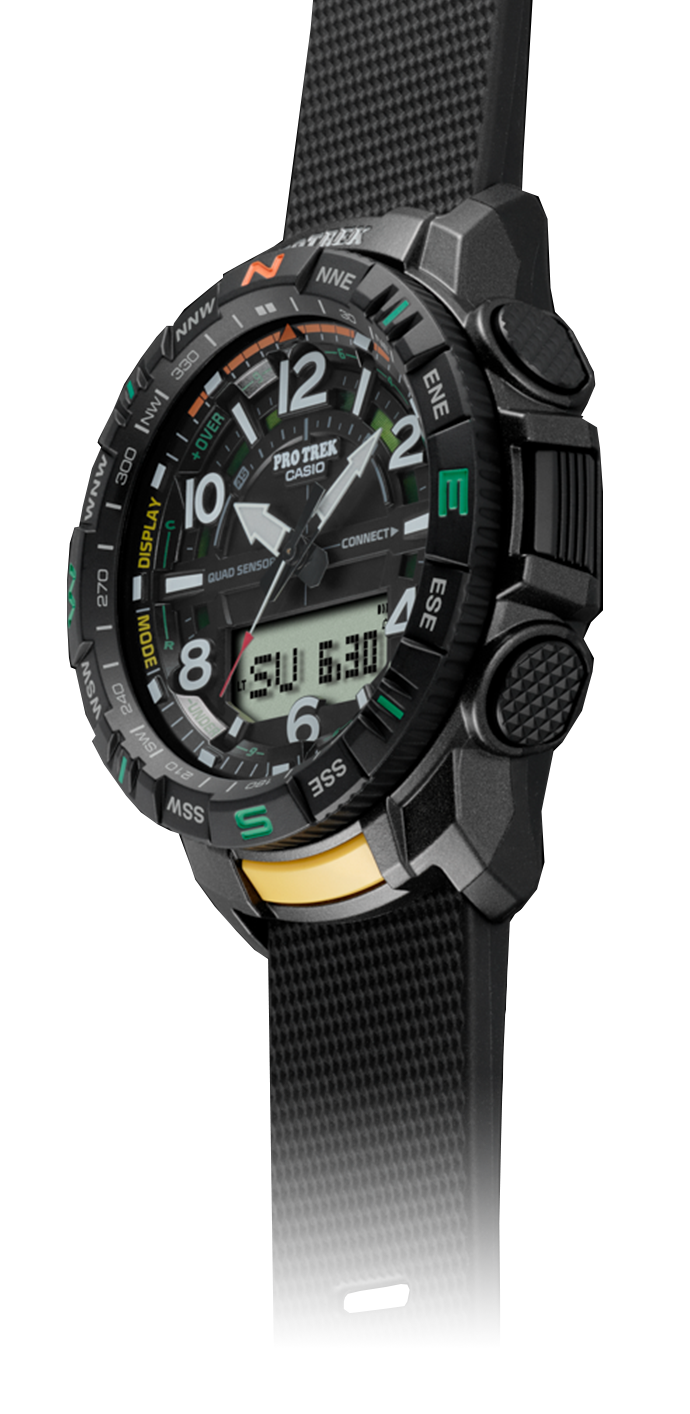 Smartphone Link
Smartphone connectivity simplifies configuration of settings, and Auto Time Adjust ensures that time settings are always correct no matter where you happen to be.

The watch can also be configured to obtain altitude information using a smartphone's GPS and automatically correct its own altitude readings. When the watch connects with a phone, it also acquires latitude and longitude information, which is used to calculate the sunrise and sunset times for your current location.
Quad Sensor System


The Quad Sensor system uses compact sensors that make it possible to pack compass, altitude/barometer, and temperature measurements, along with an accelerometer that keeps track of your step count, into a compact configuration.
Compass Bearing
Display your current position and your recorded movement log on a high-definition color map while you measure your activity. This allows you to check your current position without having to get out your smartphone. Use this feature in situations such as when you want to challenge yourself with new courses or when you want to run while traveling.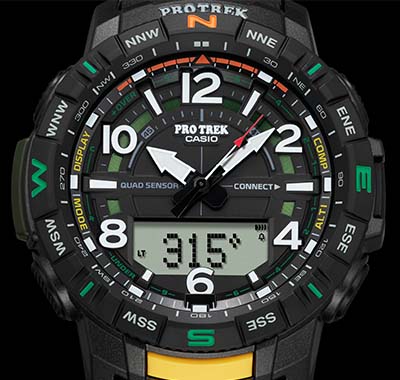 Barometric Pressure / Alititude
Import GPS log data (such as for past routes or recommended routes from ViewRanger) into the watch by using Google DriveTM, and set these routes for running. Check your route on the map while you run as a form of simple navigation.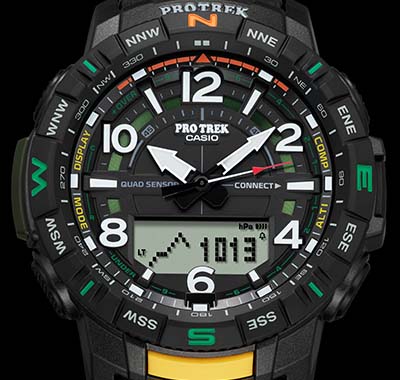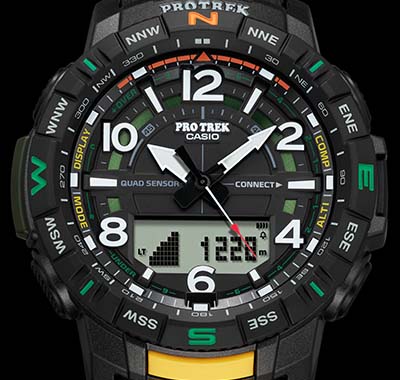 Temperature / Accelerometer
Save the routes on which you travel during your activities as activity data. You can use markers to record checkpoints for locations such as places where water is available, and create your own running routes. You can then share these routes with others.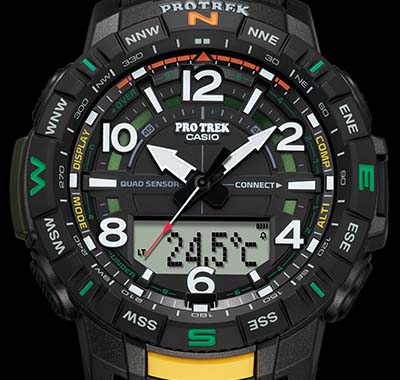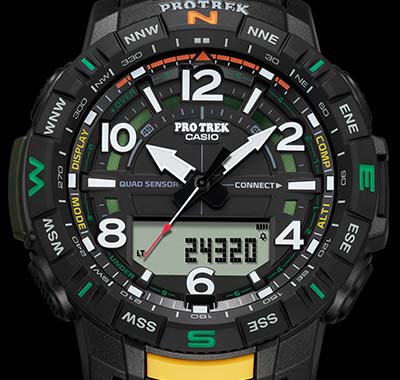 Additional Features
(Wireless linking with Bluetooth® devices) Requires installation of an app on your phone.

App Linking, Simplified Setups
Trekking Log
Altitude information acquired by the watch and GPS information acquired by your phone are automatically recorded by the app. You can plot manually recorded altitude points on your route.
Step Tracker
The app takes upgrades and downgrades into consideration when calculating calories burned by referencing altitude changes, and records the results in an Activity Log
Location Indicator
A watch button operation can be used to record your current location on the app. After that, the second hand of the watch will indicate the bearing and the digital display will show the distance to the recorded location.
Mode/Display Switching Customization
You can use the app to enable or disable each mode, and even specify the sequence used for enabled mode access. This means you can customize mode operations to suit your needs and convenience.
Auto Altitude Correction (4 times/day)
The watch uses GPS information acquired by your phone to correct its altitude measurements automatically
Auto Time Correction (4 times/day)
More than 300 World Time Cities
Alarms, Timer
Phone Finder
To communicate with the watch, your phone needs to have the PRO TREK Connected app installed. Only iPhone and Android smartphones specified by CASIO are supported. For a list of phone models for which operation has been confirmed, operating requirements, and other information, visit the CASIO website.
Communication with the watch is limited to Bluetooth capable smartphones only.
Supported Phone Models*
For details about devices and operating systems for which operation has been confirmed and other information, visit the website below.
https://protrek.com/asia-mea/en/watches/PRW-60/
*Bluetooth capable smartphone only
User Guides
PRTB50 Quick Reference Guide | User Guide | PRO TREK Connected App Quick Start Guide
Tech Specs
Double LED light
LED light for the face (Auto LED light, Neon illuminator,
selectable illumination duration (1.5 seconds or 3
seconds), afterglow)
LED backlight for the digital display (Auto LED light,
Super illuminator, selectable illumination duration (1.5
seconds or 3 seconds), afterglow)
Low-temperature resistant (–10°C/14°F)
Mobile link (Wireless linking using Bluetooth®)
Digital compass
Measures and displays direction as one of 16 points
Measuring range: 0 to 359°
Measuring unit: 1°
60 seconds continuous measurement
Hand indication of north
Magnetic declination correction
Direction calibration (2-point calibration, figure eight
calibration, auto calibration)
Altimeter
Measuring range: –700 to 10,000 m (–2,300 to 32,800 ft.)
Measuring unit: 1 m (5 ft.)
Hand indication graph of altitude differential
Manual memory measurements
(up to 14 records, each including altitude, date, time)
Auto log data (High/low altitudes, cumulative ascent and
descent)
Others: Relative altitude readings (±100 m /±1000 m),
selectable measurement interval: 5 seconds or 2 minutes
(1 second for first 3 minutes only)
*Changeover between meters (m) and feet (ft)
Barometer
Measuring range: 260 to 1,100 hPa (7.65 to 32.45 inHg)
Measuring unit: 1 hPa (0.05 inHg)
Hand indication of pressure differential (±10hPa)
Atmospheric pressure tendency graph (last 20 hours or
last 56 hours)
Barometric pressure tendency information alarm (beep
and arrow indicates significant changes in pressure)
The atmospheric pressure tendency graph can show the
last 20 minutes or last 56 minutes of measurements. The
hand indication of pressure differential shows values in
units of ±1 hPa.
*Changeover between hPa and inHg
Thermometer
Measuring range: –10 to 60°C (14 to 140°F)
Measuring unit: 0.1°C (0.2°F)
*Changeover between Celsius (°C) and Fahrenheit (°F)
Step count using a 3-axis acceleration sensor: 0 to
999,999 step count display range
Power Saving: Auto sensor sleep state entry after fixed
period of non-activity
World time
38 time zones (38 cities + coordinated universal time),
daylight saving on/off, Home city/World time city swapping
Sunrise, sunset time display
Sunrise time and sunset time for specific date
1/100-second stopwatch
00'00"00~59'59"99 (for the first 60 minutes)
1:00'00~23:59'59 (after 60 minutes)
Measuring unit:
1/100 second (for the first 60 minutes)
1 second (after 60 minutes)
Measuring modes: Elapsed time, split time, 1st-2nd place
times
Countdown timer
Measuring unit: 1 second
Countdown range: 24 hours
Countdown start time setting range: 1 second to 24 hours
(1-minute increments and 1-hour increments)
5 daily alarms
Hourly time signal
Hand shift feature
Full auto-calendar (to year 2099)
12/24-hour format
Button operation tone on/off
Regular timekeeping:
Analog: 3 hands (hour, minute (hand moves every 10
seconds), second)
Digital: Hour, minute, second, am/pm, month, date, day
Accuracy: ±15 seconds per month (with no mobile link
function)
Approx. battery life: 2 years on CR2025
Module Number: 5601
Size of case / total weight
PRT-B50...............57.5  50.8  15.8 mm / 64 g