3 tips for tackling a bicycle tour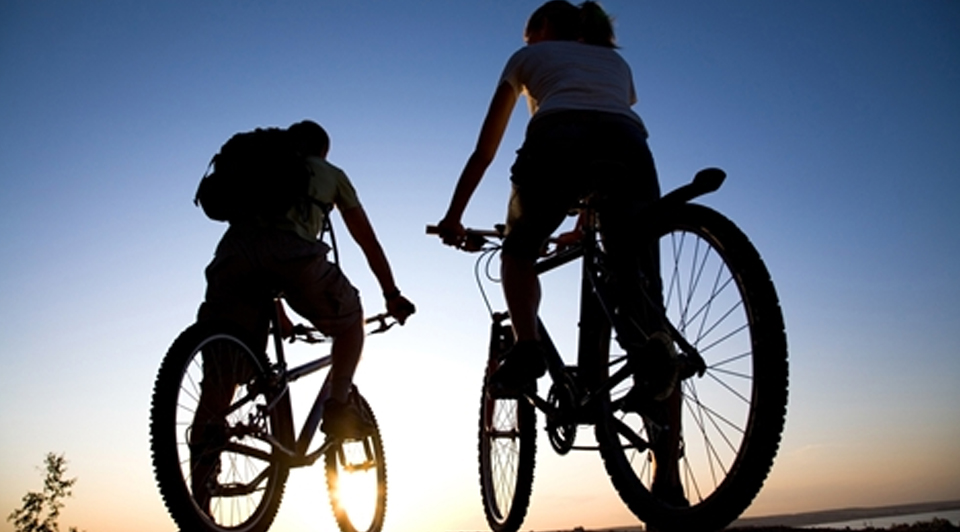 If you've ever thought about hopping on your bike and riding across the state, the U.S. or the world, you're not alone. Many people each year ride all over the place with little more than their bicycles, some saddle bags (called panniers) and tons of will power. It's called bicycle touring, and it's easier than you'd think.
Some people camp along the way, while others stay with friends, with strangers or at hotels. It's a great way to experience nature more intimately and explore areas without speeding through them in the car. Whether you ride from coast to coast or for just for a few days, you'll feel a special source of pride knowing that you rode that whole distance with your own legs. If you're considering taking a bike tour soon, here are a few tips to help you prepare.
1. Think about the distance you want to cover and where you want to ride
The first step to bike touring is picking your route. Whether you're using GPS or a map with the help of your watch compass, it's important that you have an exact route planned out. Lonely Planet advised tourers to consider the scope of their trip before looking online for the best places. Many cycling advice websites, blogs and message boards discuss riding around the world. If you're just starting out, you'll really want to start with something manageable, and the boards may have advice for that, too.
Just because you live in one area doesn't mean you need to tour there. Touring also gives you the opportunity to really get to experience a new place. Many people travel through Europe, Southeast Asia, Australia or Africa when they tour. Do your research and find somewhere fun that you can get excited about.
2. Don't believe the rumors
Many people think about touring but never end up doing it because they think it's too expensive, they're not fit enough or they don't have the right bike. The truth is, these are all myths.
As World Biking explained, "there are all sorts of myths about bicycle touring flying around." But that doesn't mean you need to listen to them. You don't need to spend hundreds of dollars on fancy gear or invest in a brand new bike, - people tour on every make and model of bicycle. Additionally you don't have to be a triathlete to ride 50 miles a day, as it's much easier than you might expect and you can get in shape relatively quickly.
One of the biggest myths about touring is that it has to cost a lot of money. But, as World Biking pointed out, if you ride smart, it ends up being far less than a road trip.
"Unless you're keen on walking, Bicycle Touring is the absolute cheapest way to travel," the touring advice website explained.
Additionally, The Adventure Cycling Association, one of the top bike touring organizations in the U.S., pointed out a variety of gear that doesn't need to be lugged along your trip as well.
3. Approach it with the right attitude
Riding your bike for days on end is only fun if you want it to be. TravellingTwo reminded cyclists to approach a tour with a "happy frame of mind" because almost all of a tour is mental. When you're out there riding, you never know what'll happen, who you'll meet or where you'll end up. But if you're ready to be adventurous and friendly, and you're determined to complete your trip, you'll end up having a great time.
Also, you should learn how to do basic bicycle repair. Hopefully while you're touring you don't get into much trouble, but if you pop a tire or break a spoke, it's a good idea to know how to fix it.
Whether you're using a GPS or a map, it is important to still keep a compass on you when going on a bicycle tour. It is better to be prepared for the worst case scenario when traveling far away from home. The PRG270B-3 is a perfect fit for a trip like this. With features like a one-press access to a digital compass, automatic LED backlight afterglow and altimeter all built into the watch, make it perfect to use while on a bicycle. Pick one up today before you head out on your trip! You never know when you could need it.