5 ideas for making your next ice fishing trip more successful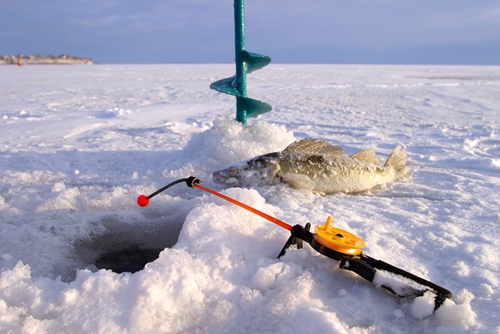 Whether you and your friends are enjoying some outdoor time or you're trying to catch tonight's dinner, ice fishing can be a very rewarding activity. Folks who have tried it understand the fun that can be had, although ice fishing is certainly more enjoyable when you actually reel something in.
By using these helpful tips, you can make your next trip more successful:
1. Haul a big catch by getting away from shore
The shallow areas of a lake or pond are home to weeds and other vegetation, and Berkley Fishing stated that crappies, sunfish and panfish are abundant in these areas. The shallows can be problematic because there is a greater opportunity for getting your line caught. Importantly, ice close to the shore can also be thinner and prone to breaking.
Deeper sections of the lake aren't usually the best during the summer, but in winter you can find some of the biggest fishes in these areas. Burrowing insects and protection lure large perch and other species closer to the middle. Depressions away from shore offer muddy bottoms rich with food and the right temperature and light levels for big fish.
2. Go digital
Field and Stream found that having a successful ice fishing trip sometimes means using modern equipment. An electric drill is the best way to create fishing holes, and is a worthy investment for anyone who ice fishes regularly. Sonar and other digital tools are also preferable because they can help you chart the bottom more easily and potentially spot the fish themselves. Even attaching a small light to your lure is an easy way to use technology to make things easier during a trip.
Bring your PRO TREK PRG300-4 Triple Sensor watch to stay safe while out on the ice. This way you can monitor the weather and protect yourself from an incoming storm or blast of cold air.
3. Do some research in the summer
If you go ice fishing at the same lake each winter, it might be worth heading up in warmer weather to do some research. Even with sonar and fish finding equipment, thick ice can make it difficult to scan the entire bottom. During the summer, however, this becomes easier.
Take note of where there are depressions in the bottom. Similarly, sunken trees, rock piles and other areas under the water may provide haven for fish during the colder parts of the year. If you can find these areas, you may be able to take advantage when the weather becomes cold.
4. Pinch the line
Ice fishing can be a fun time with friends and family, and it can be easy to absently just jig your line up and down as you chat or eat. Unfortunately, clever fish can grow bored of this and might not react to a simple motion.
Hold the line with your thumb and finger and gentle grab, twist or roll it. This causes your lure to move in a more compelling way without dramatically changing the depth. You can also try slowly ringing your line around the rim of your ice hole. This too can be more intriguing to a hungry fish than a simple up down motion.
5. Don't be afraid of the bottom
The mud and vegetation at the very bottom of a lake or pond can easily cause you to lose your line. At the same time, however, some of the biggest species of fish spend the winter hugging the sandy floor. Use your sonar to identify areas that are free of plant life and don't seem to be too muddy. Then slowly drop your line so it softly bounces off of the bottom. This could help you land the biggest fish in the lake.