5 reasons to wake up and hit the trail early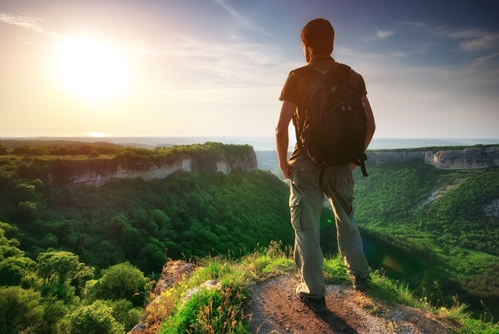 Not every hiker is a morning person, but if you want to get the most out of the great outdoors, you might consider changing that early day routine.
There's nothing like hitting the trail at sunrise. Here are five reasons why a dawn hike will help you begin your day on the right foot.
1. Beat the heat
One of the greatest dangers for a summer hiker is the heat you could face on the trails. For people in very humid regions or arid areas with little shade, the temperatures can peak around midday and make hiking dangerous without frequent breaks and lots of water. What's more, it's much easier to get a nasty sunburn when the sunlight is at it's most intense at high noon.
Check your watch thermometer the next time you hike early. You can often dodge intense temperatures by hiking in the mornings when it's cooler and the sun isn't directly overhead.
2. Enjoy the view
Whether you're getting a glimpse of the sun cresting over the horizon or you're gazing at the rays peaking through the trees, the view alone is enough to validate a morning hike. If you're tackling a trip to a popular vantage point, look up when the sun rises, set your alarm early and grab your watch and camera.
3. Get the time you need for big trips
An hour or two could be the difference between a great hike and a recipe for disaster. It's rarely wise to travel trails in the dark. For many hikers, that means turning back around dusk, which could mean never reaching a mountaintop or a landmark. Other risky hikers may continue to hike past dark, and this can cause you to lose sight of the trail and risk injury.
It's happened many times before, even in the most popular hiking locations. According to the National Park Service, roughly 250 hikers need to be rescued from the Grand Canyon every year, often because they attempt to hike from rim to river and back in one day.
The best way to get enough time for your adventure is to get an early start.
4. More time for recovery
And at the end of your travels, you'll want a little downtime to rest, relax and reset. Unpacking, showering, eating and stretching are all necessities after a long day of hiking, and you'll be hard pressed to do it all effectively if you're getting back home well past dark. If you save the trips for the mornings, you'll have more time to recharge later. You could even run some errands if you get home early enough and feel up to it.
5. No more traffic
If you're heading out during the weekend, you'll likely hit traffic during the commute. That goes double if you're traveling to a popular spot. Luckily, you'll find that there are less drivers out and about when you're hitting the road before daybreak. The less time you're locked in bumper-to-bumper traffic the better, especially when you get to spend more time in the serene wilderness.
The PRG300-7 is the perfect companion for your early morning hike. This new watch helps to keep you one step ahead of nature .