Be prepared for cold-weather hiking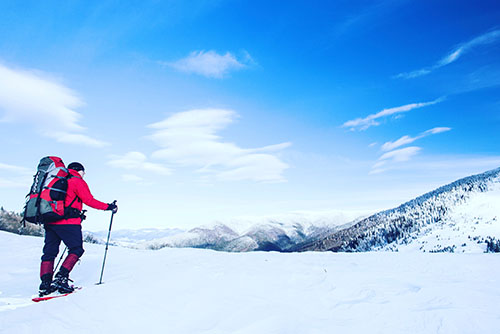 In many parts of the country, temperatures are far from pleasant: If you'd ever wondered why people start hiking the Appalachian Trail in the spring, there's your answer. More often than not, hikers are not thrilled by the cold - but there are a significant number of outdoors enthusiasts who adore it. After all, in the winter, it's possible to experience the thrills of ice climbing, trek through the woods in snowshoes and take advantage of snowy mountains by going skiing. And, of course, in some places when the weather permits, you can still hike and camp in the cold.
So check the temperature on your PRW3510Y-8 equipped with thermometer and prepare to embrace the cold. Start with these tips:
Layer up
Any seasoned hiker knows the importance of wearing layers, even on days that are less cold. The weather can change in an instant as you climb, so it is best to be prepared. Sometimes, even in seemingly pleasant conditions, you can suddenly experience all four seasons in the space of an hour. When you head out on the trail in the cold, your attitude should be the same, even if you have a big coat. You may get warm from your exertions, and can easily peel off a sweat-wicking shirt or two over the course of the day. Pick lightweight materials, of course, because one way or another you will be carrying them, and don't underestimate the importance of that extra fleece. It could be unnecessary, but it's better to be over-prepared than underprepared.
Keep your toes warm
According to Section Hiker, you need insulated hiking boots no matter the length of hike upon which you embark. The footwear should be able to withstand temperatures of 20 degrees below zero Fahrenheit or lower, and you should also invest in some thick hiking socks. To ensure that your boots still fit, purchase them a half-size larger than you usually do - or better yet, bring your socks to the store and try them on with the footwear.
High gaiters are also essential for winter hiking, the source added. Essentially functioning as waterproof guards, they cover the top of your boots and, in some cases, go up to you knees. They are designed to keep out water and snow which, in turn, will help your feet stay warm.
Pack extra edibles
Trekking through snow is hard work and uses more of your muscles. The Wild Girl Writing outdoors blog recommended bringing extra snacks and things to keep you going. Trail mix is a hiker staple , but she said that it can be a good idea to bring energy chews or energy gels for a quick burst. If you're camping overnight, leave the canned tuna behind and bring dehydrated soups and hearty bean stews to keep your belly full and your body toasty.
No matter what, you should ease into your winter hikes, especially if this is the first year that you are hitting snowy trails. Being in the cold for hours can be unpleasant, not to mention enduring the rigors of walking through snow. Plus, you need to be sure that your gear actually keeps you warm, so a few shorter hikes will allow you to see what you may need to adjust in terms of layering and items of clothing. There's nothing dangerous about hiking in the winter. It can be a blast - maybe more fun than summer hikes, but you should give your body and your mind time to get accustomed to different conditions. And remember, no matter what, you won't be plagued by bugs when the temperature drops.