Benefits of taking a solo camping trip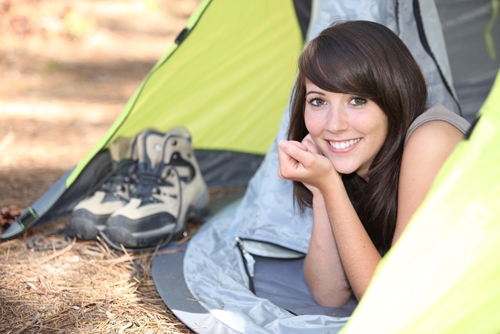 While camping is typically a group adventure, heading to the great outdoors by yourself can be an exciting, restorative experience as well. Not only does solo camping allow you to enjoy the beauty of nature with fewer distractions, but it also gives you the opportunity to learn about yourself and the environment. If you're wondering whether or not you should pack up for an adventure by yourself, check out some of the benefits of camping alone.
Everything's on your terms
A solo vacation allows you to choose where, what, when and how you do things. You can pick your favorite destination and set up camp however you like on whatever plot of land looks good to you. If you want to eat peanut butter and jelly sandwiches all weekend or set aside entire afternoons for whipping up gourmet camping meals, nobody can stop you!
This is especially nice when it comes to planning activities. Not only can you choose your preferred hiking trails, but you can take however long you want exploring your surroundings. Just make sure to regularly check your solar powered watch so you don't get stuck hiking in the dark without proper equipment.
It's arguably safer
Many people shy away from the idea of solo camping because it sounds dangerous. After all, it seems like every outdoor enthusiast has a story where they got stuck and needed a helping hand. Explore magazine explained that people tend to be more daring and take more risks when they're with groups, since they have a "safety in numbers" mentality.
People who head out by themselves are typically more aware of potential safety risks because they know they'll have to deal with any consequences on their own. For example, you're less likely to go for a midnight swim when you know nobody can assist you if you encounter rocks or strong currents.
You can connect with nature
While bringing along a group of friends provides you with plenty of entertainment, solo camping allows you to revel in the beauty and wonder of the great outdoors. No matter how many times you've camped at a particular spot, you'll undoubtedly notice new sights, sounds and smells once you head there alone. With nothing and nobody to distract you, you can simply appreciate the environment and use the alone time to reflect, explained camping blog Outdoor Nation.
Things to consider when camping alone
While solo camping can be a wonderful experience, it's not for everyone. Explore magazine recommended taking a few things into account before packing your bags.
Solo adventures are for people who are seasoned campers. Only head out alone if you're well versed in first aid and wilderness survival.
You should aim to stay for more than five days, since the first few night can be less-than-relaxing while you're still getting acclimated.
Let people know what you're doing and try to check in regularly to let them know you're OK.
Bring a book to read to avoid getting bored. Don't rely on electronic devices, which may not work in the woods.
Make sure you have a thoroughly packed first aid kit, and try to bring an emergency device, like a satellite phone.
Keep a diary documenting your moment of reflection. You'll undoubtedly have a few thoughts or revelations you'll want to remember later.
Book a physical with your doctor before you leave so you know for sure you're healthy enough to camp alone.
If solo camping sounds right for you, don't let anyone talk you out of this unique and eye-opening experience.
When traveling alone you want to make sure you don't need to rely on anyone for anything. Pack your bag with all the essentials, a flashlight and spare batteries, blankets, first aid kit and your favorite Pro Trek watch like the PRW3500-1.