Dont soak your gear: What you should know about kayak camping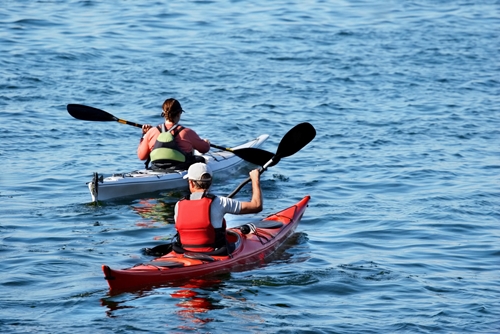 Many outdoor explorers use their kayaks to go camping in places they'd never be able to access from a car. Whether it's the wild side of the lake, miles downstream or an unpopulated island off the coast, kayaking is a great way to find that perfect, secluded camp site where you can be a man.
Before you start thinking about what you'll be cooking in your private wilderness, you should know the tricks and tips of kayak camping so that you don't get ashore with a wet sleeping bag and tent in tow.
Know your environment
When you go camping anywhere, it's critical to know at least a little about your surroundings. You don't want to set up your tent where rocks or snow are liable to crush you. With kayak camping, you also have to worry about the boat. Use tools such as your watch tide graph so that you know where to pitch your tent and store your boat and aren't surprised by an abrupt rise in water. Not only would an abrupt tidal rise cause your camp to be ruined, but you could also become stranded as your boats drifts away.
Prepare for everything to get wet
When you're in a kayak, you're going to get wet and so will your belongings. Whether the water drips down the paddle arms or your have a spill entering or exiting the vessel, water is an inevitability while you float along. Whitecap Kayaking tells campers to think of this as Murphy's law - what goes in the kayak will get wet.
This underscores the importance of packing with dryness in mind. There are certain items - your sleeping bag, phone, food - that you don't want to get soaked. But there are others that matter less, like a tarp. Use your dry bags and plastic bags to protect your more delicate, water-sensitive items and then place the rest in compartments that will limit their exposure to water if not fully protect them.
Focus on safety
Kayaking definitely has its advantages over hiking because it lets you access areas you wouldn't be able to otherwise, and you can cover much more distance each day. However, it also presents new dangers. Eastern Mountain Sports advised kayakers to keep their boats clear of belongings to protect them from flipping their boats, risking injury and damaging gear.
"If you fill up your compartments and there are still items you want to bring, resist the temptation to stuff them in the cockpit with you," You may need to wet exit at any time, and if you've packed items around you, you'll have to track them down and fish them out of the water. Even worse, loose gear could ensnare you on your way out. Having weight around your hips could also make much more difficult to perform an Eskimo role, leading to an unnecessary wet exit."
In addition to keeping the cockpit clear, you don't want to over burden your boat with additional gear that may make turning difficult, especially in an emergency situation.
Enjoy your food
Unlike a backpacking trip, you can bring a little more food along on your kayak. Feel free to indulge with fresh fruits or more elaborate meals that would be adding unnecessary weight in a standard pack. Additionally, many people prefer to fish while kayaking. Make sure you spend some of this extra space and weight allowance on quality cooking gear so that you can turn your camp stove in a gourmet fish fry.
When out on the water one of the most important features is a tide and moon graph. This will help to make sure your gear does not get swept away when you are on land sleeping. Another great feature of the PRW2500T-7 is the built in compass to help you find your way back to camp. Since everything gets wet on a Kayak it helps to have a 200M water resistant watch so its one less thing to worry about.