Easy meals to make on your next camping trip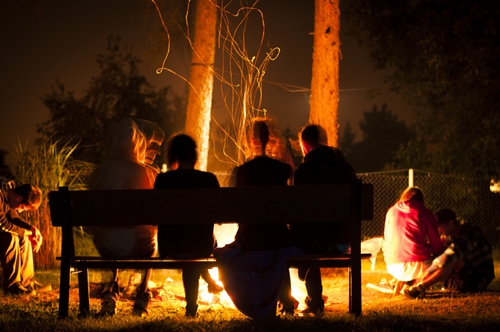 Hiking and camping can be tough work, and after finally pitching your tent and turning your attention to food, sometimes the usual pre-packaged meal or white bread sandwiches just aren't up to snuff. Camping is about getting in touch with the great outdoors, but that doesn't mean you have to skimp out on dinner.
It is important to bring re-usable utensils and protect your food from pesky critters or hungry bears. Likewise, use your Pro-Trek triple sensor watch to keep an eye on the weather. From there, however, the sky's the limit when it comes to camping cuisine. Here are a few ideas to consider for your next trip.
1. Campfire burritos
The food blog Ninth and Bird stated that burritos are such a good camping food because they can be made ahead of time and safely stored in tinfoil. They can be enjoyed on the trail, at a resting point or in your sleeping bag.
Burritos are also an excellent choice for camping because they can be made with just one skillet, minimizing the amount of equipment that needs to be carried or cleaned. Simply choose your favorite ingredients and place them together in a single container. Once you get to your campsite and have a fire going, just heat up the contents and serve.
2. Grilled veggies
Camping food doesn't have to be unhealthy, and a campfire makes for a great opportunity to grill vegetables over an open flame. Things like Brussels sprouts and bell peppers can be skewered and ready to eat in minutes. Other veggies like corn on the cob or potatoes may require a little bit more preparation but they too make for a fine meal while out in the woods.
Even if vegetables aren't the star of your dinner, be sure to eat plenty of fruit and veggies while camping and hiking. Even as snacks, they provide essential vitamins and minerals, while junk food is full of empty calories.
3. Cowboy Hotdog
Hotdogs and sausages are an iconic camping food, and according to Sunset, there are easy ways to spice up this classic and make it irresistible. Enter: the cowboy hotdog.
This recipe is simple. Pick your favorite hot dog and cook to perfection. Meanwhile, prepare grilled onions and bacon, as these will go alongside barbeque sauce, cheese and spicy mustard to complete this delicious, rugged dinner. For anyone really looking to capture the cowboy spirit, Sunset suggested opting for bison hotdogs.
4. Breakfast burgers
Waking up to a delicious meal is just as important as ending your day with some salubrious delight, and breakfast can easily be over-looked when planning a camping trip. Instead of the usual scrambled eggs, consider taking things up a notch with a breakfast burger.
After grilling your burger, prepare a few sunny side up eggs to be enjoyed right on top of the meat. To give this burger a true breakfast feel, replace regular burger buns with an English muffin or puffy biscuit.
5. Nature's bounty
There's no reason why mother nature herself can't provide you with a satisfying meal. While catching wild game may be a bit of a chore, anyone with a fishing license, some know-how and a little bit of luck can easily reel in a tasty dinner. From there, a sharp knife and a good skillet are all you need to put together a perfect campfire dish.
Be sure to check local regulations for fishing specifications and to fully clean your catch to avoid any pin bones or unsavory bits of meat. Otherwise, forgoing a trip to the grocery store and getting food while out in the bush is a great way to make for a memorable camping trip.
Pro Trek watches are designed and engineered to be essential pieces of outdoor gear, which is why the ProTrek PRG270-4 is the right choice for your camping trip. With built-in digital compass, barometric pressure/altitude, and temperature readings, all water resistant up to 200M, ProTrek is the gear you don't want to forget.