Everything you need to know about meal prepping for your hike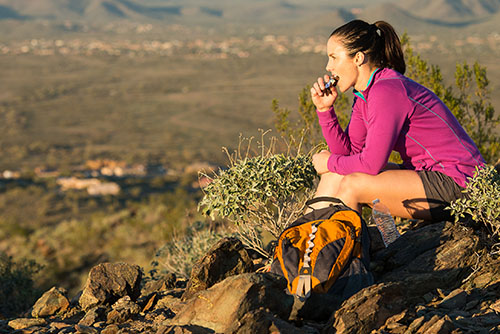 Hiking, especially multiday endeavors, requires thoughtful meal planning prior to departure. When you're out in the backcountry, there is no access to convenience stores, and sometimes conditions make it difficult to build a fire. Available drinking water can also be a concern in some regions. As such, being prepared with proper food and drink is essential.
Consider these guidelines for planning your hiking meals:
Establishing a plan
Packing food depends on the length of your hike, and adventures that last one night or more require carefully executed plans. The food that you pack needs to be light in weight, safe and easily packaged, and most importantly, nutritional. Choose foods that are high in protein and complex carbohydrates that can provide you with the energy you need to exert yourself during the long hours of hiking, REI's Expert Advice column advised.
A good standard for amount of food is to pack about 2 pounds of food per day. This figure will vary depending on body weight and size but the goal is to pack between 2,500 and 4,500 calories for each full day. While you don't want to fill your bag with unnecessary, bulky items, REI does advise bringing slightly more food than you think you will need. In the event of an emergency, it is better to have more than less.
Another thing to keep in mind is ensuring that the majority of your food is simple to prepare, REI's Expert Advice column noted. Try to limit the number of cooking pots, dishes and utensils you'll need to carry, and have a supply of no-cook food in the event that cooking is not an option. Here are several meal idea for your next hike:
Breakfast
As the Academy of Nutrition and Dietetics explained, you should pack perishable foods for only the first day of your hike. Perishable food can be exposed to hot weather - above 90 degrees - for only 60 minutes before it goes bad. In milder weather, perishable food should be OK for up to two hours. Everything after that needs to be nonperishable for your health and safety - that is unless, you have a portable cooler that can keep these items chilled to below 40 degrees. To eliminate the hassle, most hikers opt for mainly pantry food items.
Breakfast ideas include instant cereals and oatmeal that require only hot water, pureed fruit and vegetables sold in pouches and dried fruits. On the first day or two, apples, oranges and bananas make for a great addition to breakfast. Starting in the morning, staying hydrated with lots of water is important. As the AND advised, you should consume two cups of water for each hour spent hiking.
Lunch
When hiking or backpacking through rough terrain for numerous days, bringing a selection of foods that are easy to prepare and also provide a variety of flavors and textures is key, hiker and cyclist Chris Cage of Greenbelly Meals wrote. Lunchtime meal suggestions include noncook dried meats, such as tuna and jerky with crackers, all of which are high in sodium. Powder meals with minimal processing are another great option. With relatively good taste, they come in a number of different flavors and provide great nutrition.
While out on the trails, having easy access to electrolyte-filled gels and chews can be beneficial, Cage noted. Often used by runners and ultra athletes, these gels and chews provide you with fuel and energy to get through the end of the day. They can also help to increase your hydration. Available in a number of different flavors, some even deliver a burst of caffeine. Another essential for the hiker is a jar of peanut butter. Not only does it provide a number of essentials, such as healthy fats, calories and protein, but also it tastes good on nearly anything.
Dinner
If you're exhausted at the end of a long day of hiking, opt for freeze-dried or dehydrated meals, REI's Expert Advice column advised. Filled with protein and nutrition, all you need to do is add boiled water and you have a ready-to-eat meat. Other options for dinner on the trail include pasta, quinoa or rice topped with whatever sauces or spices you bring. Small, to-go packets of mayo, soy sauce and mustard are great. You can also add canned poultry and fish can also be added to these meals.
It's also important to hike with a supply of quick and easy snacks that have good nutritional value. On the trail, consider having easy access to things like granola bars, trail mix and dried fruit. They can give you the boost of energy you're looking for without requiring you to stop and assemble a full meal. Also, consider using one of the many fitness apps on your Smart Outdoor Watch to boost your hike and channel the energy from all your snacks! .
With these recommendations, you'll be able to plan tasty snacks and meals for any hiking trip.