Extreme snowshoeing excursion destinations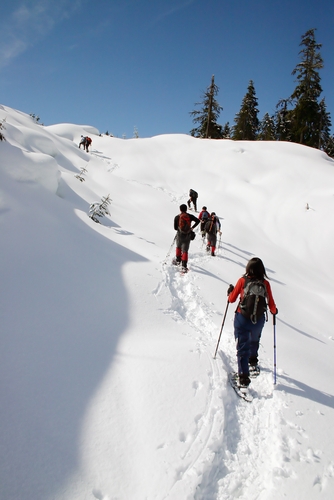 Now that it's getting a little colder and snow is starting to accumulate, you can start to take advantage of winter activities. But there's more out there than skiing and snowboarding - have you ever considered snowshoeing?
Snowshoeing doesn't have to be as docile as it sounds. To some, snowshoeing might seem like a romp around the park, but you can take this sport to new heights with extreme snowshoeing. The sport is quickly growing in popularity for winter exercise buffs because it's accessible for everyone, but also a great workout. If you're a marathon runner, avid hiker or cyclist, you don't have to go dormant during the winter. Snowshoeing is great cross-training.
Health benefits
Let's start with the health benefits of snowshoeing - what kinds of muscle groups are you working? According to Snowshoes.com, snowshoeing workouts vary based on the what you put into them, but an intense workout can burn up to more than 1,000 calories an hour when you hike across powder on a hilly terrain. The blog talked to Dr. Declan Connolly, professor of the University of Vermont's exercise physiology department, about the intensity of this winter workout.
"Snowshoeing utilizes major muscle groups which, when combined with a higher metabolic rate in cold weather and the added resistance of moving through snow, results in a high-energy activity," said Connolly.
Check out the top five extreme snowshoe resort destinations that you have to hike this winter:
1. Sugarloaf Mountain Resort, Maine
This trail was recommended by Snowshoe Magazine because of its 90 kilometers of trail that run through the woods varying for all skill levels.
2. Black Hills, South Dakota
If you love animals, this is the trail for you, reported Trips to Discover travel blog. Custer State Park is thousands of spacious acres that allow some of the West's wildest creatures to roam freely about. As you hike the Centennial Trail, expect to pass buffalo and elk among other rare wildlife.
3. Sun Valley Resort, Idaho
Snowshoe Magazine praises this resort as a must-go to if you're into a snowshoe excursion. This area is easily accessible via any major city, however it's a mountain town isolated outside of Ketchum, Idaho.
4. Lakeshore Snowshoe Trail, Wisconsin
Travel Wisconsin explained that this amazing trail takes you past the sea caves of the Apostle Island National Lakeshore. Snowshoers can reach the caves via the frozen shoreline of Lake Superior. This destination comes with a warning, however. Because it's so extreme, it's wise to get directions and check on the ice conditions so you don't fall in the frozen lake.
5. Jackson Hole Mountain Resort, Wyoming
This destination will be familiar to the avid snowboarders and skiers, but it's also great for snowshoers too. It's actually ranked fourth for snowshoers because it has an area designated just for them, said Snowshoe Magazine. The source explained that this is such a standout location because of the access to the Grand Teton National Park, Phelps Lake and the Laurence S. Rockefeller Preserve which provide trail options for all levels of snowshoers.
Quick mention on what to wear before you head out
Like with any other winter sport, layers are key when you're snowshoeing. You don't want to get stuck in the middle of a trail far from lodging and freezing with nothing you can do about it. Better to be able to shed the layers than be underprepared. The key is to be able to remain flexible, however you don't want to pack yourself in so tight that you'll barely be able to move. Snowshoes.com explained that the best materials for outdoor activities are wool, silk and synthetic materials because these will soak up the sweat and keep you dry, and therefore warm. Your next layer will be for insulation - fleece will keep you the warmest. Finally, your outer layer should be a waterproof jacket, but make sure it's made from breathable material or you'll end up roasting.
As for your accessories, don't forget your hat and gloves, sunglasses and your Casio ProTrek watch thermometer so you know exactly what the temperature is outside, and when it's time to head back inside!
The ProTrek PRW300-2B not only features a thermometer, but altimeter/barometer and compass as part of Casio's Triple Sensor technology, completely solar powered and resistant to low temperatures of -10°C/14°F.