Go hiking, not shopping, on Black Friday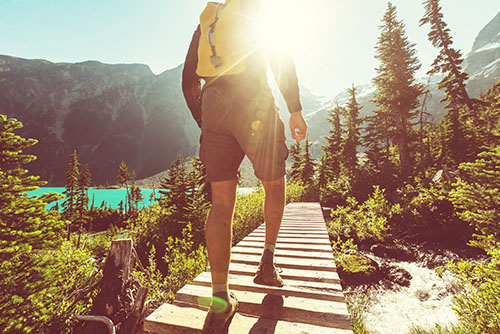 After the turkey has surrendered all the meat it can, and you're fed up with pumpkin pie, it can be tempting to stroll around the shopping mall, getting a head start on all those Christmas purchases - after all, there are plenty of deals the day after Thanksgiving. This year, however, eschew the crazy crowds and mindless consumption after you spend time with friends and family, and head out onto the trail. Your wallet and your waistline may thank you come Dec 1.
A new Black Friday tradition
In 2015, the outdoor retailer REI decided to close on Black Friday, instead of enticing customers with copious deals and raking in the profits. But this outlet was not alone. According to the company website, more than1.4 million people indicated that they also chose fresh air activities as opposed to shopping. Using the hashtag #OptOutside, REI created and a movement via its blog and social media channels, encouraging others to hike, walk, run, bike and generally be active. Additionally, 170 organizations teamed up with this alternative post-Thanksgiving celebration, showing their support and spreading the word across the country. REI said that it also paid its 12,000 employees to take the day off and head outside with friends and family.
Of course, some people establish Black Friday traditions, and one of these can involve heading out to score deals. Many people have never been on a hike at all. This year, why not save the shopping for closer to Christmas and try something new? If you've never been hiking before, here's how to start:
Know where you're going to go
It may seem obvious, but you first have to decide upon your route before heading anywhere. For your first hike, pick somewhere fairly close to home, so if you get tired, a long drive is not looming ahead of you. If you're going en masse, ask friends and family to pick where they may want to explore. You may have some hikers in your group who can offer up local trails to choose.
Lonely Planet suggested that you also choose the right kind of hike. This won't be a gentle stroll in the park, so you have to be honest about your fitness and comfort levels before heading out. If you're generally active, go ahead and select a day-long trek with some elevation, but if you're totally new to the great outdoors, stick to a path that covers more level ground across a manageable distance of a few miles, for example.
Have a light pack and layer up
For a day hike, you don't need a massive backpack, just something small enough to hold the essentials and your PRG650YBE-3: Water, a couple of snacks and a charged cell phone should get you through a couple of miles, but if you're going out for longer, bring more substantial food. Protein bars, trail mix, jerky and a few turkey sandwiches should keep you going.
Remember to keep some room in your pack to remove extra layers once you start to get warm. That's right, you should dress in light layers of clothing to ensure that you are well insulated on your trek, the source advised. This way, you can easily dress to your own body temperature as the hike progresses and elevation changes. No one wants to freeze or fry while enjoying a beautiful walk. And always pack some kind of a waterproof jacket. Sometimes the weather can change in seconds, depending on the part of the country in which you reside.
You don't have to go crazy and hike to the top of Mt. Washington to get outside this Black Friday. In fact, just being mindful of your activity level and starting to make changes is one way to be healthier. And you never know: one hike now can lead to a new hobby that takes you through the winter and into the new year.