How disc golf can rejuvenate your old hiking trail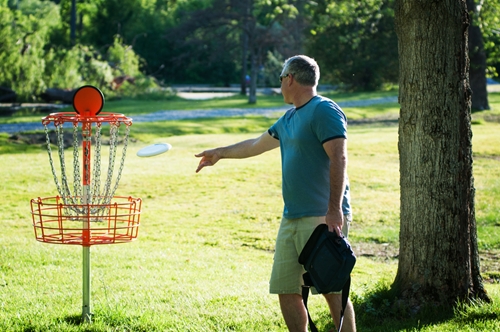 As a nature lover, you probably have a few favorite hiking spots close to home. The more traveled those paths become, the less adventurous you may feel chugging past the same rock formations and landmarks. However, it's not every day you can pack up your things and head out to explore a new stretch of woodlands.
So how do you breathe new life into those classic trails you know so well? How can you turn those trails into a fun journey again?
Sometimes, a little change of perspective is all you need to rejuvenate that old trail, and turning your nature walk into a game is the perfect way to do that. Disc golf is a perfect fix for exploring old territory in a new way. Here's why.
A hiker's guide to disc golf
If you're familiar with club golf, you already have a fair understanding of disc golf. The two sports are incredibly similar, from teeing to incorporating dog-legs into the course. The biggest difference is that golfers use a flying disc instead of a set of clubs and golf balls, which is much more convenient for the hiking enthusiast.
You can create a disc golf course virtually anywhere, and you could even substitute the official disc golf basket, which functions as the golf hole, for a tree or similar object for greater convenience. The greatest qualities of the sport are its affordability and ease of play, but it also lets hikers get creative when they design courses.
Disc golf can be played virtually anywhere. Courses usually have nine holes, according to the Disc Golf Association, and those areas can have various obstacles, lengths and curves throughout. The key is to design a course that combines fun, challenging play and also involves exploring your favorite parts of the trail. Start by picking a starting and ending location and have at it! If you really want to take the calculated approach, print out a map of your hiking spot, wear your watch compass and map out all the particulars.
Rules and best practices
There is a right and wrong way to tackle disc golf, so beginners would do well to remember a few guidelines.
First, the game isn't about showing off or creating one tricky hole. It's about creating a consistently fun nine-hole course. Focus on providing balance and making it challenging yet entertaining for beginners. That will make it easier and more entertaining to play with your hiking friends.
Challenging and entertaining doesn't mean a lot of trick shots and obstacles. You'll want to avoid things like water hazards or long-distance tee-offs into the woods. The former could mean losing your disc in a lake or pond - as they normally sink - and the latter can make it difficult to retrieve. Keep it simple your first time around.
Also, try not to obstruct other people's hiking path. If your trail is at a popular park, you might rethink plotting your course on the trail itself. The last thing you want to do is hit a bystander with a disc. Avoid roads, footpaths, parks and private yards.
Last but not least, remember the old hiking adage: Leave it better than you found it. Disc golf is a great way to relax with friends, and you might even bring some snacks and a cooler along. However, there's no excuse to litter during play. Keep the woods, fields and other areas around your course clean just like you would keep your campground.
The PRG300-7 is a great watch for keeping track of the time and keeping the temperature readings right at your fingertips. Its soft urethane band gives you a better fit on your wrist so you will comfortable to play games or go on a long hike.