How to Encourage Kids to Hike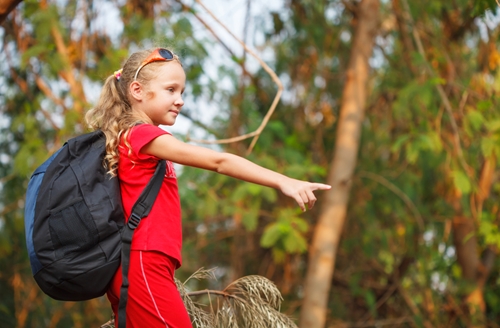 Kids love to be outside and enjoy fresh air. Even if you live in a city, there are generally plenty of parks and green spaces for kids to run around. If you love to hike, why not instill the same interest in your little ones? It's never to early to head out on the trails.
Getting kids started with hiking
Naturally, it's just about impossible to take a long hike with a newborn, but even then you can find many different slings to suit babies of different sizes. While it's not advisable to head somewhere remote with a very small baby, you can still follow well-defined trails and spend small increments of time outside. As he or she becomes larger, you can take slightly longer hikes, but be sure to check and see how the baby tolerates the movement first. And of course, if there are extreme weather situations - snow, extremely hot temperatures - wait until conditions improve to go out on the trail.

As kids get a little bigger, they will start to explore the outdoors. You may not be hiking the Appalachian Trail with a two year-old, but together you can take walks, looking at plants, trees and flowers, finding pinecones and stones, and playing outside. Pick trails with streams nearby in which they can splash, or look for fish and other wildlife.

Slightly older children might be interested in the walk itself, seeing how far they can go and leading the way. Again, stick to family-friendly areas - nothing remote - and give kids the chance to walk ahead. (Bonus points for those who can find walking sticks to "help" them along the trail!)
Camping by day or overnight
While you may not participate in an overnight hike with kids, you can still camp with them. Starting off small, in the back yard, can get little ones used to the idea of sleeping outside. Naturally, if they are frightened or would rather stay in bed, they can run back in the house. But if you all camp outside together, read stories before bed, and do fun activities like making s'mores and looking at the stars together, they will pick up on the exciting aspects of the outdoors.

As kids get older, you may want to take them to a campground by a lake, with many nearby trails. This way, you can take walks, but there is the excitement of swimming to beckon as well - and the promise of an afternoon swim is an excellent way to gently encourage them to take a walk.

Eventually, your children may be more curious about longer hikes over more challenging terrain. They will be more physically capable and will enjoy the views and sense of accomplishment that come with reaching the top of a hill. You can let them suggest routes to try, and teach them how you can use your WSD-F20 to navigate the trails. By this point, hiking and the outdoors will be something familiar and fun - and they will connect it to spending time with family and making wonderful memories.