How to get started with trail running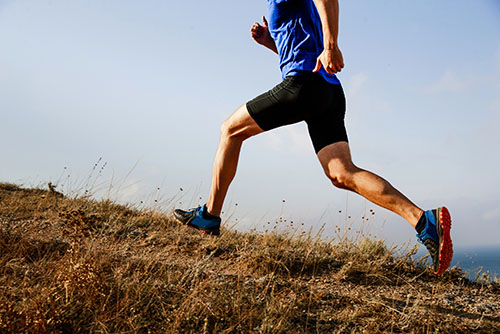 Trail running may be the perfect outdoor activity for people who love running and hiking. There's the peace of being in nature, the visual interest of flora and fauna, and the thrill of trekking through the woods - albeit at a slightly faster pace than normal. The best part? Being an experienced hiker is not essential to give trail running a go. All you need are some sturdy shoes, outdoor-ready clothing, your Smart Outdoor Watch to gage how long you've been out and to help you meet your goals.
However, as with any new activity, it's a good idea to clear your plans with a physician first. Additionally, you may want to grab a running buddy or two for your first forays into running along the trails: It's always good to have a companion when trying something different in the great outdoors.
Start out slow
Seasoned hikers need to remember that it's important to ease into trail running gradually. The terrain will be challenging and some people may notice that it feels harder to cover the same amount of distance as on a road or path. According to Runner's World, this is normal. Trail running is more strenuous often because of the inclines involved but also the rough terrain. In other words, you have to watch where you are putting your feet, but this can be fun, like a game rather than a struggle. Take your time in the beginning to get used to watching for roots and rocks, and once you become accustomed to moving cautiously, it's time to up your speed.
Get the right shoes
As with any hiking-related activity, running requires more sturdy footwear. Save the Nikes for your neighborhood and look into a pair of firmer shoes specifically made for trail running. According to REI, the best kicks have lugged soles which improve your grip on uncertain terrain, and are made from a stiffer material than traditional running shoes. This helps with stability on paths with debris, tree roots, rocks and wet ground. Depending on your personal preference, you can select from minimalist footwear - also known as light trail shoes and they tend to be slimmer and less bulky for easier, marked routes - or rugged trail shoes, which are best suited to running on hiking trails. For die-hard adventurers, off-trail shoes are best for when you just want to zip through the woods. They have a firmer structure, are often waterproof and have thicker, resilient soles, the source explained.
Watch your time
Trail running can take longer than road running, according to Active. When you run on a trail, you're aiming to follow the route that will require you to use the least amount of energy possible. On a road, you just travel in a mostly direct fashion from point A to point B. So, on the trail, you may have to follow switchbacks to make it up a steep part, or move more slowly over muddy and wet ground. It's all part of the experience, of course, but be sure to put aside ample time for your adventure.
If you're interested in kicking up your hikes a notch or two, then go ahead and try trail running, an exciting activity that can stimulate both mind and body.