Important tips for hiking with children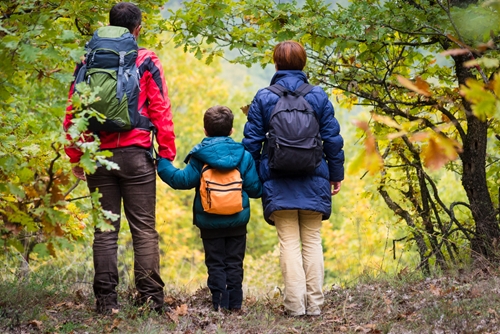 Sharing your love of nature with your children or nieces and nephews is an exciting way to instill new values in the young people in your life. It can also serve to help them develop healthy, active habits by creating a love for physical activity early on. A family hiking trip is a great way to spend a weekend afternoon, as well as an effective strategy to begin to expose your children to the great outdoors.
If your family has yet to hit the trail, there may be a few things for your kids to get used to. With time they will come to enjoy hiking and exercise good decision making out in the woods. In the meantime, here are a few essential things to keep in mind:
Start slow
The Washington Trails Association reported that being patient and flexible with your plans is important when heading out for a hike with young children, and keeping things light the first few times is a way to make the experience a positive one.
Despite their seemingly boundless energy, your little ones can quickly become tired. This is especially true on steep or difficult terrain. For that reason, the best idea is to pick a short, easy trail for your first few family hikes. Consider selecting a route that will pass water or is known to have interesting animals. Children will be much more engaged by these things and it will keep them going.
Encourage curiosity
There is plenty your children can learn from a walk through the woods, and everything from growing plants to an encounter with a forest toad can lead to endless conversation and fascination. Throughout the hike, encourage your child to ask questions and make observations. Ask for their opinions and let them steer the conversation. In this way, they become responsible for finding things out, which will reinforce their natural curiosity.
Pack accordingly
To avoid any disasters on the trail, it makes sense to plan ahead by filling your backpack with all the essentials. Along with a good first aid kit, be sure to pack protective clothing and gear like sun screen, bug spray and a good rain jacket.
Snacks and water are also important when hiking with children, as they may get fatigued and discouraged much more easily than an adult companion. Other things, like binoculars, may help your child learn more, while a weather-proof camera is great for ensuring the memories last a lifetime.
Set a good example
Your child isn't just learning about the natural world during a hiking trip, but they are also watching how you behave. For this reason, practicing what you preach and making good choices is critical.
The Wilderness Society stated that it is key that you show your children everything from proper trail etiquette to the importance of being responsible with trash or waste. Having a positive, excitable attitude will keep your family up-beat and engaged, while becoming visibly tired will invite your children to let their own discomfort get the best of them.
Exhibit all safety measures
Because you have a lot more experience, it is important that above all else you keep your children safe during a hiking trip. They may not see the connection between running on the trail and a twisted ankle, and odds are they cannot identify poison ivy or other hazards. Similarly, use your Pro Trek watch compass to avoid getting lost.
If you are hiking in an area with venomous snakes or other dangerous wild animals, be sure to not let your child wander too far. The odds of an encounter with a threatening creature is minimal, but as the adult, it is still critical to be vigilant.
Keep the kids safe and sound while exploring Mother Nature with the ProTrek PRW3500T-7 watch. It features a compass, a barometer and is water resistant up to 200M!