Important tips for winter biking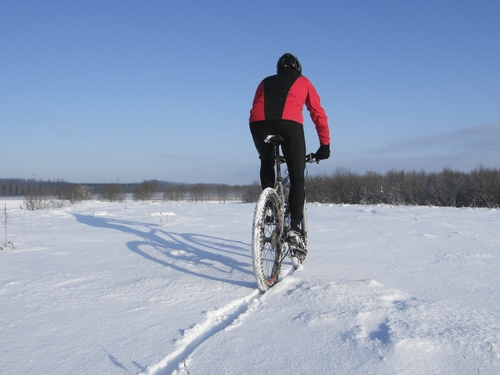 Snow and ice can be a real hindrance for commuters in the winter months, but they may not be enough to slow down serious biking enthusiasts. Many folks rely on bicycles to get to and from work, while others enjoy the thrill of taking a ride in the elements.
Biking during the winter months can be more difficult than when the weather is a little more cooperative, but with the right preparation and determination, commuters and nature lovers can still find ways to get out and get riding.
Chose the right gear
Depending on your location, you may have to contend with extra rain, icy roads or freezing winds, which can make a bike ride much more difficult. According to Bike Winter, the core of your body can get very warm during a winter ride, while the extremities can be most exposed to the cold and wind.
Anyone biking in the winter should be sure to protect the eyes and face as best as possible. This may include scarves and glasses or face masks and goggles. Fitting a winter hat under a helmet may be difficult, which is why earmuffs are especially beneficial. Because bikers' hands are especially exposed, a good pair of gloves is key for anyone riding during the winter.
Waterproof boots or shoes can be helpful especially when worn with wool or ski socks. Folks who use bikes to commute may want to pack bags with extra pairs of shoes or socks, especially when wet weather moves through. As for any leisurely bike rides during the winter, bringing your Pro Trek triple sensor watch is great for staying ahead of any storms or especially difficult weather.
For especially cold weather, Bike Winter reported that layers are an important idea. Combining long underwear with leggings or tight athletic pants is great for staying warm, while a layer of weather-proof pants adds important protection.
Make good choices
One of the best ways for riders to be ready for winter weather is to check forecasts and know when and where conditions will be the most dangerous. Gear Junkie stated that with sand and salt, major cities do a great job of keeping roads clear, but if a storm hits during rush hour or a weekend ride, bikers can still be at risk. For that reason, keeping an eye on the weather is especially important in the winter.
Bikers also benefit from snow plows, which often clear bike paths as well as major roads, according to Gear Junkie. Snow shovelers and people digging out trapped cars may end up posing new risks, however, although bikers must always be prepared for unseen dangers.
Going slow and steady is important for bikers because of the risks associated with icy conditions and new hazards. Snow-covered or foggy cars may limit visibility for motorists, and for that reason, cyclists may need to exercise extra caution when sharing the road.
Maintenance
Gear Junkie reported that one thing that cycling enthusiasts may overlook in the winter is how important bicycle upkeep can be during the winter. For example, storing a bike indoors may be necessary for anyone commuting, but ice forms more easily on cold brakes and chains. Keeping your bike cool in a garage or locked up outdoors is important for minimizing any flash-freezing.
Maintenance in virtue of tires and lubricated chains and gears is also critical for safety. The rear brakes can be especially important for cyclists in icy conditions, so cyclists need to be sure to be proactive about keeping everything running smoothly. New tires may also be necessary depending on the severity of winter weather, especially for outfitting a bike for any long winter rides or rough terrain.
Be ready for whatever the winter throws at you with the tough, solar powered PRW3500Y-4, complete with Pro Trek triple sensor technology including barometric pressure/altitude, temperature readings, one-touch access to digital compass, and low temperature resistant technology.