The best activities to try on your next camping trip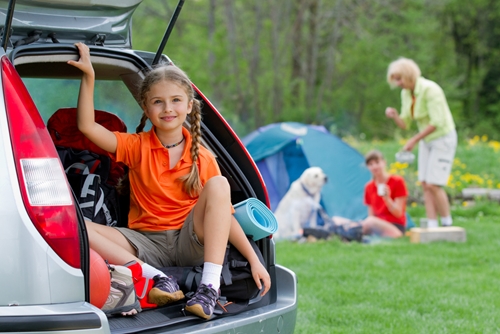 A camping trip is a great way to spend a well-deserved vacation, and between taking in the aesthetics of the natural world and enjoying a late-night s'more, there are all sorts of things to do to make your outdoor adventure memorable.
Whether you're camping with a group of friends, your family or even solo, check out these activities to try on your next trip:
Play plant bingo
This is a relaxed way to get an intimate look at the nature surrounding your campsite, though with the right crowd, things could get pretty competitive. Use a guide book to select a few dozen species of plants found in your area, and have each person in your party fill out a bingo board. Take a walk and see who can spot the right combination of trees, flowers and other greenery.
For anyone camping with children, this is a fantastic way to help them learn more about the natural world. Grab your Pro Trek PRW3500Y-4 with built-in compass and see if certain species show up in specific areas of the forest. Reserve America found that this game can be played with birds, other animals or miscellaneous items found in the outdoors as well.
Find a spot for star gazing
For city-slickers, one of the best things about a trip to a local state park is to get away and relax. Some of the best camping sites are devoid of noisy cars and bright lights, presenting a perfect opportunity for some star gazing.
During the day, head out and research the best place to enjoy the beauty of the night sky. Find a clearing in the woods or perhaps head to the shores of a nearby lake or pond. At night, come back with a blanket, sit back and enjoy.
Start your own fire
The ability to build a campfire may be trivial for a lot of outdoor enthusiasts, but for some folks, this task is easier said than done. Young children especially will enjoy this challenge. Grab a flint and a knife to really get the full effect, but bring a few matches or a lighter as a back up.
Be sure to follow all rules and safety guidelines specific to your campsite. Many state parks and other places have restrictions on bringing in firewood, as this can transmit invasive bugs and other creatures.
Go fishing
Another timeless camping activity is getting up early and casting a line. Most areas will require a fishing license, but from there, this is one of the best ways to pass the time during an outdoor adventure. Set out for a relaxing morning or evening with your favorite lure, or consider trying fly fishing for something that is a little more high-intensity.
Enjoy some lawn games
As the Scenic Route pointed out, just hanging out around your tent or RV by playing a few lawn games is another great idea for your next camping trip. Toss a Frisbee, play a little cornhole or break out the horse shoes. These are fun to play for people of all ages, but relaxed enough to not add any unnecessary stress to your vacation. Before your trip head to the store and grab something new to try or bust out your favorite game.
Tell some ghost stories
Once you've set up your campfire, there's nothing more classic than swapping ghost stories. Anyone camping with a family is sure to make a memory or two by telling a scary story. Even for older groups, the right ghost story may reveal that some folks on the trip aren't as brave as they thought.