Tips for Hiking the Grand Canyon Before Summer Ends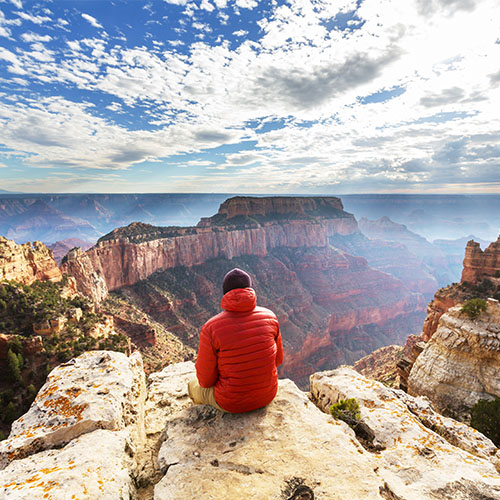 Summer can be a hiker's dream, especially if you thrive in sunshine and warmer temperatures. The longer days mean more time on the trail, and the less chilly evenings make your post-hike camping experience all the more comfortable. Before the end of the season and the return to school for many - yes, teachers too - you might want to get in one last impressive hike. The Grand Canyon is one hugely popular hiking spot. It's so majestic and mysterious even solely in photographs that it needs no explanation as to why any hiker would want to explore it further. Heading to this site during the summer can be fun, but some hikers will have to use a few extra precautions. Here are a few tips for hiking the Grand Canyon in the last balmy days of summer:
Be kind to yourself
You might be the most ambitious hiker on the planet, but remember that the Grand Canyon is located in hot, dry, desert conditions and at a high elevation. In other words, take it slow, the National Park Service (NPS) recommends. Start your hike earlier in the day before the sun and the heat reach their peaks, and if it feels like too much, simply turn back. You won't win any prizes for suffering heat exhaustion.
Travel light
Pack the essentials and nothing more. This also falls into the category of being kind to yourself, because you don't want to be in the heat with a very heavy pack. Bring light snacks - trail mix and small protein bars are great - and sufficient water. The NPS says the heaviest items in your pack should be food and water. Carry a phone and wear your PRO TREK WSD-F20 to monitor the temperature, altitude, your vitals and the distance you have traveled.
Remember to rest
Of course, it's essential to listen to your body. There's no point in racing to the end of the trail. You can become over-eager and keep going no matter what, but to ensure you don't tire out or dehydrate, you should take at least a 10-minute break each hour to check in. If you realize you're tiring early, too hungry or have simply had enough, turn around.
Pay attention to the time
It's easy to get lost in the moment - or the beautiful Grand Canyon scenery - but you have to remember that you're hiking down into the area. This means you have to hike back up again, and while that seems obvious it's far easier said than done. The NPS advises that it will take you a third of the time you spend hiking to reach the bottom and two-thirds of that time to come back up, because you exert more energy on the return trip. Be sure to set an alarm or check the time before leaving, during your hike and before ascending to the top. If you start out late, remind one person in your group to carry a small flashlight in case you end up hiking in darkness.
Hiking in the Grand Canyon can be the experience of a lifetime. You just have to be mindful of the weather and other external conditions during your hike - and that goes for beginners and seasoned hikers alike. The National Park Service urges extra caution for hikers during the summer - and this includes August, in which the region's temperatures can reach highs of 103 degrees Fahrenheit. As long as you're smart, pay attention and listen to your body, hiking the Grand Canyon before fall starts will be just as spectacular and rewarding as you imagined.