Tips for a successful summer camping trip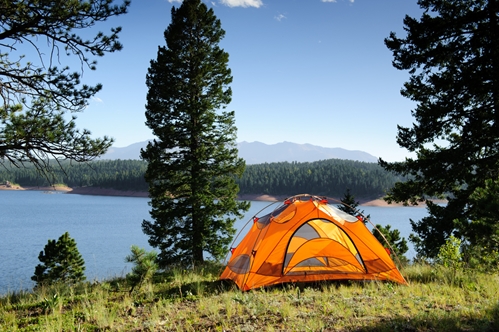 While camping is a great vacation option during any season, it's definitely the most fun and relaxing in the summer. When the weather is warm there are plenty of outdoor activities to choose from - between hiking, swimming, fishing and roasting marshmallows you'll be busy long after the sun goes down! Want to make sure your summer camping adventure goes smoothly? Use these tips to have the best experience possible.
Avoid the crowds
It's no secret that the summer is peak vacation time, and this is especially true when it comes to campsites. Part of what makes camping so fun and interesting is spending time immersed in nature, and large crowds can definitely detract from the ambiance of the great outdoors. Backpacker explained that while you can't stop other people from camping, there are easy ways to avoid big groups. The source recommended starting your hikes at sunrise, since most people wait until later in the morning to get moving. As an added bonus, early hikers are more likely to see animals, since they won't be intimidated by the crowds.
Hiking at night is another great option when you're looking for a more solitary, authentic wildlife experience. If you do choose to hit the trails post-sunset, be sure to ask park rangers which trails work best after dark. Bring headlamps and flashlights, or plan your vacation around the full moon.
Be aware of common camping dangers
Spending time outside in the summer presents a number of safety risks, so be sure you're prepared for them to have a stress-free camping trip. Accuweather noted that one of the most important things campers should do is apply sunscreen with a sun protection field of 30 or higher every four hours.
If you're spending time by the water, you'll want to be more vigilant about reapplying, and you may want to use a higher SPF. The sun's rays reflect off the surface of the water and can contribute to more severe burns. Be sure to keep track of how much time you're spending in the sun by using your solar powered watch - try to relax in the shade every few hours to avoid heatstroke.
Summer campers should also be aware of snakes and bugs. Accuweather explained that you should regularly check your shoes, sleeping bags and other equipment to make sure critters haven't made themselves at home. Make sure all members of your group use insect repellant throughout the day to prevent bites from mosquitos, which sometimes carry diseases. Additionally, perform tick checks after every hike.
Keep food and drinks chilled
One of the best parts of summer camping is cooking food on campfires or portable grills. If you're planning to use ingredients that normally require refrigeration, like dairy or meat products, you'll need to find alternate methods of keeping these items chilled. Not only will spoiled food taste bad, but consuming it can make you seriously ill.
Outdoor blog Go Camping Australia noted that packing your cooler with regular bags of ice isn't a great chilling technique, since these tend to melt quickly. Instead, try freezing gallons of water in plastic containers and use these to keep food cold. Fit as many ice packs as you can in the cooler as well, and try to only pack food that's already frozen so it will stay colder longer. Be sure to keep your food in a cool, shady area at all times - you may need to move it throughout the day depending on where the sun is.
Going camping is always an adventure. Make sure to stay safe and bring whatever tools you may need while in the wilderness. The PRW3500T-7 is great because its tough and has plenty of useful features like Compass, Barometer, Altimeter and its water resistant!