Upgrade your outdoor experience with glamping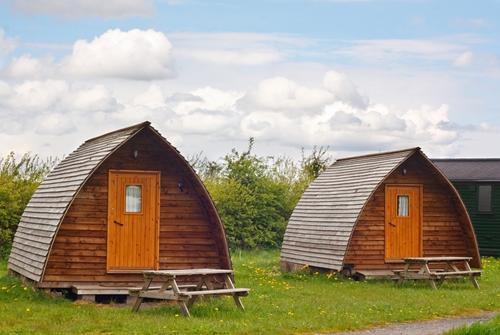 Travel trends come and go, but camping has always been a favorite vacation experience for people interested in exploring nature. For people more accustomed to fancy hotels than lakeside lodgings, the idea of spending the night outside can be quite intimidating. Those wary of roughing it in bare-bones tents can now experience the beauty of nature as well, however, through a relatively new camping option known as "glamping."
What is glamping?
As you can probably guess, "glamping" is a union of the seemingly opposite words "glamorous" and "camping." According to Glamping.com, this trend is part of an international movement to give people more options when it comes to vacationing in the great outdoors. This type of camping eliminates many of the traditional hardships associated with sleeping under the stars - vacationers don't have to pitch tents, rest on sleeping bags, and build campfires for heat and cooking. Instead, glamping is all about comfort, proving to travelers that you can be among nature without sacrificing the finer things in life.
What should you expect from a glamping experience?
Whether you typically pitch your own tent or you're a first time camper, glamping is probably unlike any other vacation you've ever experienced. According to A Luxury Travel Blog, glamping isn't always the height of opulence - after all, you're still vacationing outside. Glamping is simply designed to be a more comfortable option than traditional camping, kind of a healthy medium between five-start hotels and living out of a backpack. Typical glamping accommodations range from solid yurts and cabins to tree houses and high-end tents depending on your destination and what company you book through.
Usually whatever lodgings you choose have air conditioning, heat and top-notch cuisine - no snacking on peanut butter and jelly while wrapped in blankets to keep warm. A Luxury Travel Blog noted that glampsites offer guests food and drinks, both of which are included in the overall price. While you'll probably still get to roast marshmallows over a fire before you go to bed, chances are you'll be doing so from a plush armchair with a premium cocktail in your hand.
What should you pack?
One of the best parts of glamping is that it eliminates the difficult guessing game that is packing. While loading up the car for a normal camping trip can be a stress-filled experience, choosing what belongings to bring on a glamping trip is far easier. You don't have to worry about equipment or food, so you can focus on bringing all the recreational and personal items you need.
Keep in mind that if you want to participate in traditional camping activities, like hiking and fishing, you should pack all the essentials you would need for a normal trip to the great outdoors. Be sure to bring a first aid kit, your solar powered watch and useful clothing like boots and jackets. No matter how comprehensive your glamping package may be, if you plan to stray from base camp you should always be prepared.
Where can you go glamping?
No matter where your ideal camping destination is, chances are you can glamp there. There are plenty of options throughout the U.S. and Canada, including sites in California, Maine, Colorado, Florida and British Columbia. European glampers will find a plethora of choices in the United Kingdom, with plenty to choose from in Italy, Portugal, Spain, France, Greece, Ireland and Croatia - just to name a few. South America, Oceania, Asia and Africa all have numerous glampsites as well.
When going "Glamping" make sure to go in style with the PRW6000Y-1A! Clearly you appreciate the finer things of style but still want all the great features that Pro Trek offers like Atomic time keeping, solar power, and version 3 triple sensor.