What outdoor adventurers need to know about early spring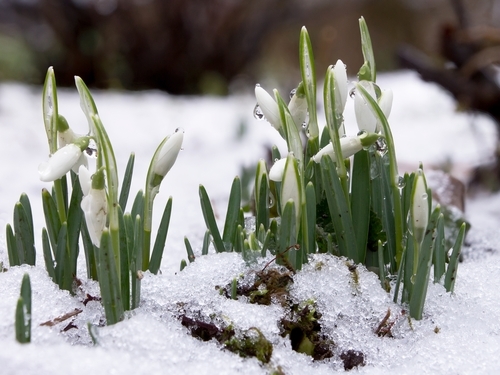 After a desolate winter, outdoor adventurers across the country start to gear up once temperatures begin to inch higher and the days grow longer. The warm air and warming sun are refreshing and mark the beginning of a long stretch of exploration and fun in nature.
That said, it's important to recognize that throughout March and early April, the conditions can be misleading. For that reason, any trek requires just a little bit of extra planning. Here's what outdoor enthusiasts need to know about early spring:
The mud
Perhaps the most essential thing to note when planning a trip during this time of the year is that you're going to need a pair of boots. That's because mud can be quite thick in early spring.
There are a number of factors that contribute to muddy trails and fields. First, snow melt leads to pooling water, and this can be exacerbated by rain showers that also come with the changing seasons. Ground that is already saturated with melting snow and ice simply can't take on more moisture.
Secondly, in many places the early spring can be rather chilly. Although a forecast may call for higher temperatures, often mornings and evenings can be quite cold, and the angle of the sun is still much weaker than it is in summer. For that reason, evaporation isn't as quick for ground that is already wet.
For outdoor adventurers, this simply means being mindful that even on sunny days, conditions can be muddy. Tread lightly and make use of an old pair of boots that you don't mind getting dirty.
The dark
A second thing to consider when getting outside in early spring is the length of day. Even after daylight saving time ends in March, the sun still sets relatively early. The excitement of warmer days can be misleading, and if you don't plan ahead, you could inadvertently end up out on a trail as dark approaches.
Use your PRO TREK PRG600YB-3 Triple Sensor watch to not only keep an eye on the time but also to monitor any dropping temperatures that come with early evening or nighttime.
The perils
As the Red Rock Canyon Interpretive Association reported, dressing in layers is important during early spring because weather conditions can change throughout the day. Cold mornings give way to warm afternoons before a chilly night sets in. Packing the right layers ensures you don't overheat without leaving yourself vulnerable.
Live Outdoors stated that another critical consideration during this time of year is flash flooding. Melting snow and rain storms many miles upstream can cause a cascade of water without much notice at all. Always be mindful of traveling in low-lying areas, especially narrow canyons or crevices. Even streams and rivers can quickly become bloated and overflow, so you need to exercise caution around running water as well.
The joys
Although early spring comes with a unique set of challenges, it's also an incredibly rewarding time to explore the natural world. Special ecological events occur only during this stretch, and getting out and exploring is the only way to experience them up close.
For example, because broadleaf trees don't fully shade the forest floor until late spring and early summer, grasses, flowers and other plants explode into life earlier in the season to make use of the available sun. At the same time, migratory birds return as insects and other creatures begin to stir.
Together, the natural world quickly abandons the silence of winter and carries on seemingly unabated. So long as you stay safe and are prepared to get a little muddy, early spring really is a magical time for outdoor adventure.