What you need to know to start ice fishing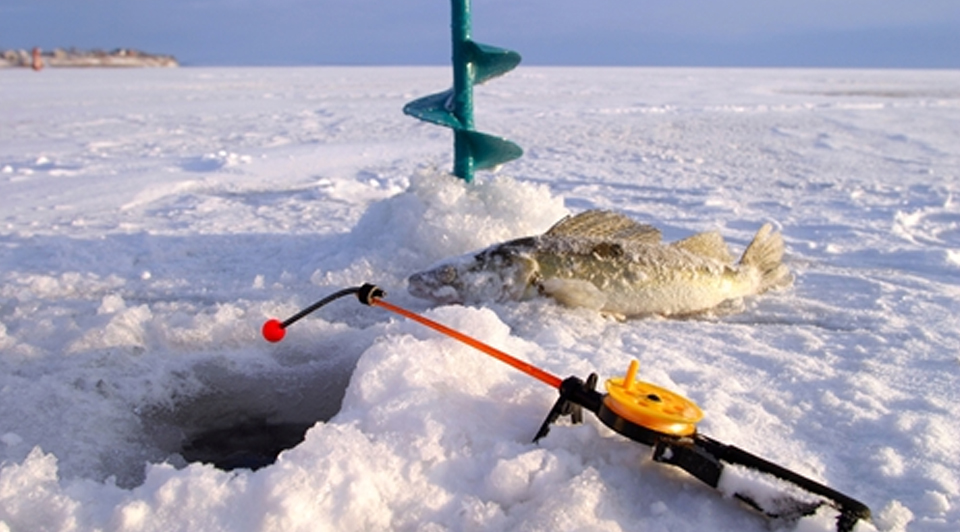 If you take every minute of free time you have in the summer to go fishing, you shouldn't let the cold weather stop you from doing what you love. Ice fishing can be a great cold-weather option to keep your sport going all winter long, at least in much of the U.S. Here's what you need to know to start ice fishing.
Stay warm
One of the most important parts of ice fishing is to keep yourself warm. Dress ready to be sitting outside for hours in below-freezing temperatures. A parka, thick snow pants, gloves, scarves and hats are all critical. Underneath, long underwear, warm compression gear and other toasty layers are great options as well.
As with any cold-weather outdoor activity, layering is critical to prevent frostbite. You want to keep your body warm and dry to avoid hypothermia, so don't wear cotton. In some circumstances you may need goggles or better face cover, while in others a hat and sunglasses can work fine. Check your watch thermometer to ensure that you're dressed for the elements and won't risk injury.
Boots are also important. Find something warm, waterproof and with enough grip that you can walk out onto the ice.
Don't forget your license
Some may see ice fishing as less popular than warm-weather fishing, but that doesn't mean that regulations no longer matter. In fact, in Wisconsin, one-fourth of all fish caught in the state are caught while ice fishing, according to the state's Department of Natural Resources. This means that in many places, officials will be checking licenses and permits.
Getting your license or permit can also be helpful because it'll give you a chance to talk to officials. They'll be able to tell you the best places this year, where the biggest crowds are and which bodies of water aren't safe. Also, if you're new to ice fishing, the regulations and restrictions may be different than you're used to. In some areas, for instance, the season only lasts through January for specific species.
Bring all the gear you'll need
Ice fishing is well-known as one of the most affordable sports. Typically you'll load up a sled with your gear and bring it out onto the ice. You'll want an auger to drill the hole, an ice chisel to expand it, and a skimmer to clear the ice and slush from your hole. Then you just need seats, - many people use 5-gallon buckets - and warm treats like coffee, cocoa or a insulated bag with hot food.
When it comes to fishing gear, you can feel free to pick your preferences. Most people opt for sturdy poles and about 8-pound line for trout, walleye and perch, which are some of the most common types of fish you'll find. Depending on the state or city, you may be able to have two lines. Many use minnows or other live bait, as well as a tip-up that flags when a fish is pulling the line.
Be smart, stay safe
Safety is very important with ice fishing, because falling through the ice is a real danger and can definitely be avoided. Make sure you never travel out onto the ice to fish if the ice is less than 4 inches thick. Ask locals or head to the bait shop to find out if the ice is safe. Also, it's a good idea to poke the ice in front of you with your chisel as you walk out onto the ice to ensure it's safe. If it cracks when poked, slowly walk away to safety.
Another danger is falling through a whole drilled in safe ice. Ice fishermen Walt and Poppee Matan wrote on their blog that it's smart to bring rope tied to a 2-by-4 just in case someone does fall in. This will give them a length of rope to grab and prevent it from falling into the water itself.
Making sure you are prepared for ice fishing is key. You want to make sure you are dressed warm. Using a thermometer to keep track of the temperature is very beneficial to wearing the right amount of layers. The PRG270B-1 is a perfect tool to accompany you out on the ice. This piece is built with low temperature and water resistance technology. Not to mention it has a built in thermometer, compass and barometer as well to name a few of its many features. Grab one before you head out on the ice!