Why hiking makes you a happier, healthier person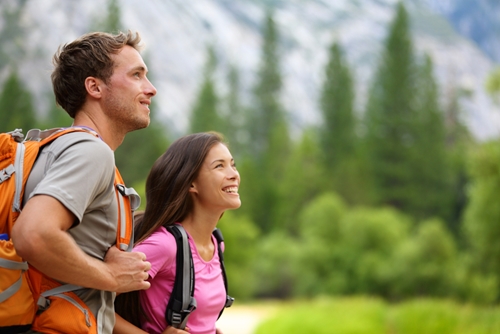 Outdoor enthusiasts are probably well-aware that getting plenty of physical exercise is good for the mind, body and soul. Still, few may have taken the time to hone in on what exactly makes a Saturday afternoon hiking trip so beneficial. Next time you grab your Pro Trek triple sensor watch and hit the trail, you won't just be taking in the sights and some fresh air, but you'll be working toward becoming a happier and healthier person.
Mind
Physical exertion can positively impact the brain in a number of ways, according to Harvard University. When you get your blood pumping on a run or long walk, your brain is impacted by reduced inflammation and a reduced resistance to insulin. Likewise, chemicals in the brain are released that promote cell health and stimulate the growth of blood vessels
Regular exercise can also reduce stress and anxiety, which are major influences on cognitive ability and decline. For that reason, older adults may especially benefit from a walk through the park or a trip to a national forest.
Body
Perhaps the most obvious positive effect related to regular hiking is how it impacts your overall fitness. Good Hiker reported that as an aerobic exercise, trekking through the woods leads to a number of beneficial bodily functions.
Getting the blood pumping is good for the heart and lungs, which in turn can do everything from reduce blood pressure and cholesterol to lower the risk of heart disease, stroke or type 2 diabetes. Elsewhere, keeping your body strong is important for fighting off illness or injuries. Good Hiker found that the activity can burn nearly 400 calories an hour in an averaged sized adult as well, meaning hiking is also helpful when it comes to weight management.
Soul
If physical and mental fitness aren't strong enough persuasions for any would-be hikers, the Huffington Post stated that individuals that spend time outdoors being physically active may actually be happier than their more sedentary peers.
Exercise and spending time outdoors is helpful for anyone suffering from depression or chronic anxiety, but anyone can reap the benefits of hiking through a green space or outdoor area. It is a rare opportunity to escape from the hectic, stressful workweek and the ever present blue glow of smartphones and computer screens. The Huff Post found that an afternoon in the woods or elsewhere in nature can promote feelings of peace and well-being.
Take in Mother Nature on a hike with family, friends or even by yourself. Hiking not only offers an easy route to a happier and healthier lifestyle, but with the Pro Trek PRW6000Y-1A it's easy to explore the great outdoors! The PRW-6000Y-1A features built in compass, thermometer, and water resistance up to 100M.