Why some birds aren't making a return this spring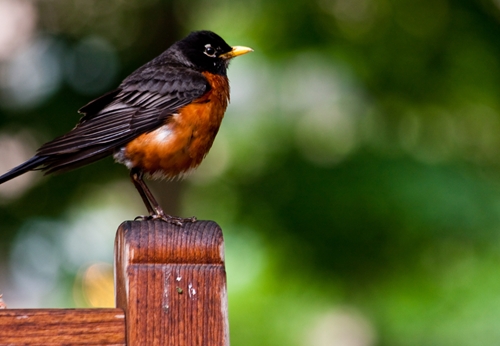 The first robin of spring or and waking up to a melody of songbirds has historically been a hallmark of the end of winter and the return of warmer weather. It is a symbol that the natural world is ready to break the repose brought on by cold weather and begin its rebirth.
The Washington Post reported that in recent years, however, this cycle has been broken. A new study has found that as opposed to making an annual visit to northern regions of the country, it appears as if song birds and other migratory species simply aren't flying south to begin with. Instead, they are opting to remain in areas that have historically been too cold to call home in the winter months. This has wide ranging implications for people like climate scientists and ornithologists, as well as outdoor enthusiasts and bird watching hobbyists.
Iconic species
The study, conducted by Durham University in England in association with the U.S. Geological Survey, is a major finding in regard to the lasting impact that global climate change is having on ecologic trends. Not only could this new pattern be applied to other migratory species like bees, butterflies and other insects, but is an important metric in understanding biodiversity in the face of rising temperatures and disrupted weather patterns.
The study will be instrumental in plotting future populations and range distributions, but it appears as if there is already strong evidence that birds are in fact abandoning their usual annual migrations. Robins, for example, have been much less abundant in southern states during the winter months, and at the same time have been documented in northern regions during the coldest parts of the year.
Other species, like the Baltimore Oriole may be so displaced by climate change that it is possible that in a few decades, the state bird of Maryland may not be able to call that part of the country home.
The National Audubon Society found that hundreds of bird species will be pushed from a good majority of their current range, and over 300 species may become endangered as a result of habitat loss. Many regions of the country will become warmer and dryer as climate change pushes forward, and as a result, entire ecosystems may be lost long before birds and other animals can adapt.
A strange opportunity
It's difficult to fully estimate the impact climate change will have on the world, and for outdoor enthusiasts, it can also be difficult to make peace with the turmoil the natural world is facing. As plants and animals fight to adapt to a new world order, anyone paying close attention will get a front row seat to an impressive display of nature's ingenuity and resilience.
The next time you grab your Pro Trek triple sensor watch, keep a close eye on what you see. By using your watch thermometer to record the temperature and the date, you can begin to create a detailed log.
You can visit the same outdoor area or green space over the course of a few years, and it may be possible to see the effects of global warming first-hand. You may notice certain species are in bloom earlier in the year, or identify new birds or insects. It will take decades for the full effects of climate change to take hold, but in the short-term, plants and animals around the world will be racing to adapt. If you pay close attention, you can begin to conduct your own survey. While the Durham University study covered much of the United States and Western Europe, you can produce findings that are specific to a localized environment or neighborhood.
Don't forget to use the Protrek PRW3510Y-1 to enjoy your local community's wildlife. With built-in compass, altimeter and barometer, there's no excuse for not navigating into the wilderness to see all the birds Mother Nature has to offer!