3 reasons outdoor enthusiasts need to visit Costa Rica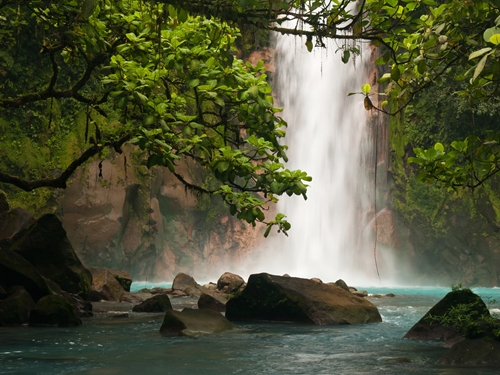 When it comes to outdoor adventuring, Costa Rica can't be beat. Although the country is roughly the size of West Virginia, visitors can experience a wide array of environments and activities. From dense tropical rainforest to impressive volcanoes and world-class beaches, there is a world of excitement contained in this small country. Here are three reasons that Costa Rica is the perfect place for a trek:
1. Unrivaled hiking
As the Nature Conservancy reported, roughly 25 percent of the entire countryside is composed of national parks and nature reserves. In this way, Costa Rica's magnificent wild spaces are well-preserved, to the benefit of plants, animals and humans.
Hiking is just one of many outdoor adventures to enjoy. The nation is covered by rolling hills and mountains, as well as dozens of active and dormant volcanoes. And blanketed across these formations is lush rainforest. As such, the hiking is exquisite and offers breathtaking scenery. Even the most well-traveled and popular destinations presents unrivaled natural beauty. Head out for a brisk afternoon hike or grab some gear and do a bit of camping amid the plants and animals. Should you chose to adventure deep into the jungle, be sure to bring along your Pro Trek PRG600Y-1 watch compass. This way you can avoid getting lost in the forest.
If hiking isn't enough, you can enjoy many other outdoor adventures in Costa Rica. Zip-lining, horseback riding and white-water rafting are just a few of the many activities to try during your trip to this spectacular country. Braulio Carillo National Park is a popular destination for hiking and other pursuits, while places like Manuel Antonio National Park let visitors gaze out across the beautiful ocean.
2. Exceptional beach life
The verdant forests of the Costa Rican countryside give way to some of the world's most spectacular beaches. Just 170 miles separate the Pacific and Atlantic, and all along the coast you can find an opportunity to enjoy the warm tropical sun.
Surfing is a great way to spend your trip to Costa Rica, as large swells wash along the country's shores. Likewise, you might enjoy kayaking, fishing or kite surfing, all of which is offered to visitors and locals. The shores are full of coral reefs that are perfect for snorkeling. Here you can see tropical fish alongside sea turtles and 50 different species of shark.
And if you are more interested in simply laying back and relaxing, the white sand and cerulean waters make for a calming, idyllic paradise. No matter your persuasion, be sure to spend some time at the ocean during a trip to Costa Rica.
3. Unparalleled wildlife
Although the country composes just 0.03 percent of the planet's landmass, International Living reported that 5 percent of the world's species are represented in Costa Rica. In fact, the nation boasts nearly twice as many types of trees than the whole of the U.S. and Canada.
Beneath the towering shadows of the canopy, Costa Rica's rainforests are home to a dizzying array of flowers, vines and other plant life. Each year adventurers work to discover new species never before described by science.
Animal life is also abundant in this tiny nation. Birds of all shapes, sizes and colors make any hike exciting, while there are numerous larger species to keep an eye out for. Monkeys, sloths and other smaller creatures are rather common, while lucky visitors may see fearsome predators such as jaguars and ocelots. The curious tapir, a relative of the horse and rhinoceroses that looks a bit like a pig and elephant hybrid, is another wonderful and charismatic animal that calls Costa Rica home.