4 camping spots to visit in fall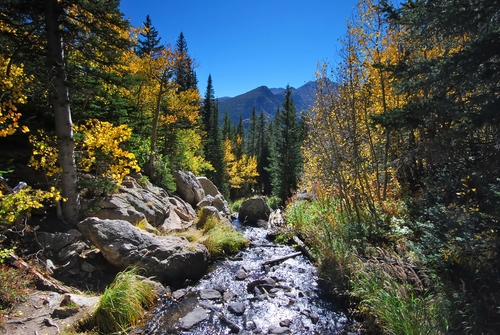 Summer may be over, but that doesn't mean that outdoor activities are as well. While you may want to put a pause on your swimming and water skiing, the fall is the perfect time to take a camping trip. Wedged between the heat of summer and the chill of winter, the mild weather of autumn will make the days more enjoyable, while the nights will provide opportunities to gather around a crackling fire.
If you're looking for the perfect location for your fall camping trip, consider adding one of these beautiful locations in the U.S. to your list.
1. Yosemite National Park, California
California isn't all about beaches and movie stars. It has plenty of spots for hikers and campers, including several national parks. Yosemite National Park in particular is a beautiful place to camp any time of the year, but it may be best to go in the early fall when the leaves are starting to change, but the snow hasn't yet started to fall. While the leaves may not be quite as vibrant as those found in other areas of the U.S., majestic panoramas like El Capitan and Half Dome provide beautiful backdrops for the changing colors in the park.
2. Burlingame State Park, Rhode Island
When it comes to fall foliage, it's hard to beat New England. Burlingame State Park isn't an exception to that rule. If stunning natural colors are your goal, Rhode Island is a great place to be. According to the state of Rhode Island, the Burlingame State Park campground covers 3,100 acres of woodland surrounding Watchaug Pond in Charlestown and offers drinking water, toilets, fire pits and a Department of Environmental Management boat launch nearby for fishing and boating.
3. Cape Fair, Missouri
If you're in the Midwest, head on over to Cape Fair, Missouri, on the James River Arm. According to Reserve America, this campground has plenty of room for exploring and its foliage in the fall is not to be missed. The location on the waterfront allows campers to add fishing to their itinerary, and hikers of all experience levels will be able to enjoy the fall colors while walking the 2-mile Table Rock Lakeshore Trail.
4. McKinney Campground, Georgia
If you're camping with kids or those who don't particularly enjoy the outdoors, consider visiting the McKinney Campground in Georgia. Active magazine reported that the site, located on Lake Allatoona, is the perfect place to enjoy the fall, especially if you visit in late October during the Allatoona Oktoberfest. Those who enjoy learning should stop by the visitor center, which offers videos and displays about the history of the area.
Wherever you decide to camp, be sure to bring your favorite Pro Trek solar powered watch. The watch auto light and built-in watch compass are perfect features for a trip into the woods, letting you keep these useful items literally at the tip of your finger.
From Yosemite National Park to McKinney Campground, the PRG300CM-4 is the watch you need. It keeps everything at your finger tips, from a built-in compass, altimeter, and so much more to make your camping trip enjoyable.