5 must-see hiking trails across the U.S.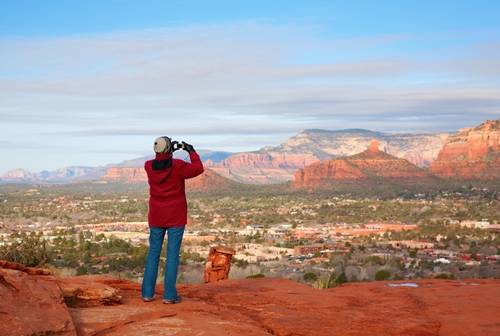 The woods in your backyard may be a great place to unwind and go for a jog, but the thrill starts to recede once you've memorized every hill, tree and rock you encounter on the trip. When you thirst for adventure and a new scene to explore, there's only one thing to do: Check out some of the best trails across the country.
Luckily, the States are chock-full of exciting routes. Next time you're planning a nature-lover's trip, keep some of these destinations in mind.
1. Maroon Bells - Aspen, Colorado
Aspen may be a skiing hotspot for many, but the wild scenery at Maroon Bells is a paradise for any hiker. The soaring rocky peaks boast multicolored slopes that are perfect for photographing, as is Maroon Lake. What's more, hikers can take their pick of trails based on experience or just what they feel like tackling. An introspective stroll around the lake makes for a relaxing midday trip, while more daring travelers may choose to hike the 14,000-foot twin peaks. Bring your watch altimeter with you if you plan on tackling the mountains.
2. Yellowstone National Park
What would any hiker's list be without mentioning the mystifying beauty of Yellowstone? From the wonders of Old Faithful to the incredible diversity of the wildlife, a trip to Yellowstone is a virtually guaranteed great hiking destination. In fact, it is the No. 1 best place to hike in North America, according to U.S. News & World Report.
The hike is what you make it, though, so make sure you do your research. There are over 1,000 miles of hiking trails to explore, and you can only cover so much ground during a trip to the park. Also, the weather is particularly unpredictable, so refer to your watch barometer frequently in case a fierce storm comes your way.
3. Kauai - Hawaii
Your typical woodland trampling gets a tropical overhaul in Kauai. Why is this the perfect island for a hiking adventure? For one, it has a gorge that gives even the Grand Canyon a run for its money. Dubbed "The Grand Canyon of the Pacific," Waimea Canyon in Koke'e State Park has a 10-mile-long, 3,500-foot-deep gorge perfect for an adventurous day trip. Moreover, Kauai comes with all the unfiltered beauty of a Hawaiian Island without many commercial development eyesores and tourist traps. You're free to explore the brilliant brown beaches and sweeping coastal cliffs without losing any of the natural tranquility compromised by urban areas.
4. Sedona, Arizona
Towering plateaus, flowering cactuses and red clay desert as far as the eye can see - hiking trails in Sedona have a lot of character. Pick the right route, and you'll find pristine panoramic shots of the Wild West territory. Be careful with what you choose, though. Similar to Yellowstone, there are hundreds of miles of trails to choose from. If you want to see some of the popular sites during your expeditioning, set off for the vortexes or the Chapel of the Holy Cross.
5. Cascade Mountain - Keene, New York
This mountain may be considered an easy trail for an experienced hiker, but the views are what attract travelers from far and wide. Cascade Mountain has stunning views of green mountains, Lake Champlain and plenty of waterfalls clustered at the peak's base, and you can see it all over the course of a 4.2-mile journey, according to USA Today. If you're a beginner in the area, this is the trail for you.
With Protrek's PRW3500Y-4 watch, hiking will become your new favorite hobby. Increase your travel list by visiting these 5 must-see hiking trails and enjoy your hike safely. This watch comes with a barometer and tough solar power that will keep ticking all throughout the day.