Climate guide: Olympic National Park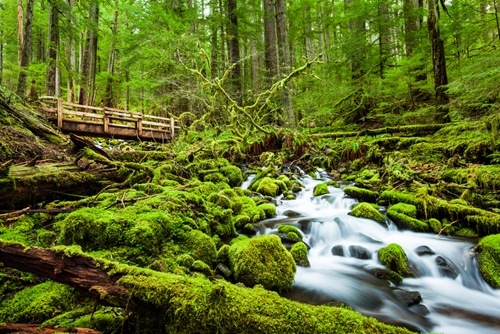 Located in the state of Washington, in the U.S. Pacific Northwest, Olympic National Park stretches for close to one million acres and is home to an incredible, varying landscape, the National Park Service detailed. From green rainforests to lakes and rivers to high mountainous peaks to miles of stunning coastline, the park's diverse natural beauty attracts close to three million visitors every year, with activities such as hiking, biking, camping and kayaking very popular among tourists.
If you're planning a hiking or camping trip to Olympic National Park, it is important to check on the weather conditions you may be facing, so that you can best prepare in terms of clothing and equipment. While your Casio ProTrek PRW3100Y-3 with digital thermometer and barometer can inform you of conditions while you are on the trip, checking a climate guide before you leave is always beneficial. Such guides can give you an idea of the conditions that are statistically most likely to occur.
Read on to learn more about the climate of the breathtaking Olympic National Park, which is relatively temperate and boasts plentiful year-round precipitation.
Winter
The Pacific Northwest has a reputation for copious amounts of rain, and winter is when the area really lives up to this stereotype. The NPS reported that it is not uncommon for the rain forest areas of the park to receive in excess of 140 inches of rain during this season. At higher elevations the precipitation primarily falls as snow, and skiing, snow shoeing and other winter activities are possible.
In terms of temperature, freezing weather prevails in high altitude locations, such as at Hurricane Ridge, which typically receives around 35 inches of snow a season. Along the coast and in the low-level rain forests, however, the temperatures tend to be much milder, although cool to cold weather is still common. US-Parks explained that highs are usually in the 40s Fahrenheit, occasionally dropping below freezing. Warm and waterproof clothing is necessary at all altitudes, but is especially important if you are considering hiking at higher elevations where snow and ice are virtually guaranteed.
Spring
As detailed by Olympic National Park & Forest, spring can be highly variable in Olympic National Park. Expect generally mild temperatures, especially at low elevations, with high amounts of rain. The source noted that snow can continue well into spring in the higher peaks of the park. Average temperatures in the 50s and 60s Fahrenheit are widely common, dropping the higher up you go. Warm and water-proof clothing is still advised, particularly earlier in the season when winter like conditions can persist.
Summer
By far one of the most pleasant times of the year to visit, Summer in Olympic National is generally mild to warm, with occasional hot spells. U.S. Parks explained how temperatures will typically reach from the high 60s to mid-70s Fahrenheit. Olympic National Park noted that temperatures in excess of the mid-80s Fahrenheit are somewhat rare. As with any other time of year, expect declining temperatures the higher you go. In terms of precipitation, summer is the driest season on average, but rainfall still remains a risk, so lighter waterproof clothing is encouraged. The NPS noted that the region is also famous for summer fog, especially along the coast, which can impede visibility and ruin beach day plans.
Fall
The autumn marks a return to cool and wet weather, with rainfall levels increasing by October, the NPS reported. It is also not uncommon for cold incursions to bring early snowfall to the very highest peaks during this time. Much like in spring, temperatures can climb well into the 60s Fahrenheit at lower elevations, particularly early in the season, but by November there is a good chance of temperatures dropping to the freezing mark overnight. Generally, though, temperatures in the 50s Fahrenheit are common. The best way to prepare for the fall in Olympic National Park is to anticipate a mixed bag - bring warm, waterproof garments and dress in layers, as this will enable you to more easily adjust to the conditions you are experiencing.