Climate guide for hikers: Acadia National park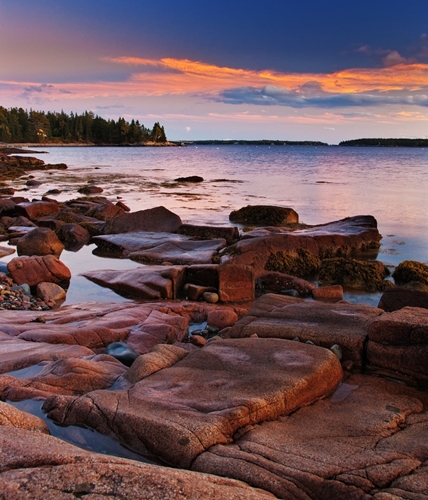 A product of ancient glacial movement, Acadia National Park is a breathtaking location with towering mountainous peaks and abundant parkland, situated adjacent to the Atlantic ocean in northern Maine. The primary site of the park, which, according to the National Park Service, stretches for more than 47,000 acres, is Mount Desert Island. Acadia is home to a number of settlements, as well as private properties, and is a popular vacation getaway in the summer time. The sleepy town of Bar Harbor, for example, becomes a bustling center of activity in the warmer summer months. The area received National Park status in February 1919, National Geographic added.
One great way to experience all the beauty and grandeur of Acadia National Park is to set out on the hiking trail. When engaging in this activity, however, it's important to keep certain things in mind,- especially as they pertain to safety. The weather, in particular, can make or break a trip, so it is important to be cognizant of predicted conditions at the time of your excursion, so that you can pack all the necessary supplies and the right kinds of clothing. While checking the local weather forecast is helpful, it can also be beneficial to review a climate guide of the park before you leave, in order to gauge a better sense of the conditions that are most likely to occur. And don't forget to check your Casio Pro Trek PRW3100Y-1 equipped with barometer and thermometer for up to date weather reports while you are on the hike itself.
Here is a quick climate guide to Maine's majestic Acadia National Park, which experiences year-round precipitation and distinct differences between its seasons.
Winter
Winters in Acadia National Park are typical of those experienced in northern New England - very cold and snowy. As noted by USA Today, the park's location next to the Atlantic Ocean does moderate the temperatures somewhat - it tends to be considerably colder in land, than on the coast. Still, snowfall is often plentiful, particularly in December, January and February. The coastal town of Bar Harbor averages 60 inches of snow a season, but areas of higher elevation tend to experience more, and colder temperatures too.
Expect average high temperatures close to the freezing mark in Bar Harbor proper, dropping to the 20s Fahrenheit overnight. Cold waves can bring even harsher conditions, with temperatures in the single digits, close to 0 degrees. If you opt to hike during the winter months - Acadia National Park is stunning after a snowfall - be sure to pack thermal, waterproof clothing, as well as hats, scarves and other supplies necessary to keep warm.
Spring
A time of transition, conditions during the spring can be highly variable. Early spring is typically marked by cold temperatures and ongoing snowfall. By April, however, the weather typically warms with temperatures in the 50s and 60s Fahrenheit commonplace, according to USA Today. By May summer-like warmth can return and conditions can be very pleasant. Damp and foggy weather can also occur, however, according to the NPS. In short, prepare for a mixed bag. Dressing in waterproof layers is an easy way to adjust to the often changeable weather patterns.
Summer
June through August boasts the best atmospheric conditions by far, although if you're not a fan of crowds it may not be so pleasant. In terms of weather, U.S. News & World Report noted that the area experiences average highs in the mid-70s Fahrenheit. Sunny days and cool, clear nights are routine. Occasional heat waves can see temperatures in excess of 90 degrees Fahrenheit. In terms of clothing, light, loose fitting hiking gear is ideal. Waterproof jackets should also be carried in the event of an afternoon thunderstorm. As mentioned, temperatures can dip into the 40s and 50s overnight, especially in land, so warm clothing if you plan on camping is recommended.
Autumn
New England is famous for its fall foliage, and Acadia National Park is an opportune place to take in the striking autumnal hues. Late September to early October is when the leaves really peak in terms of their color. As another season of transition, the weather in the fall is highly fickle. Don't be surprised to experience a sunny day in the 70s followed by cold and damp conditions the next day. The average high in October, as reported by U.S. News & World Report, is close to a mild 60 degrees, although by November overnight lows are close to freezing. Packing for all conditions is prudent.