Climate guide for hikers: Yosemite National Park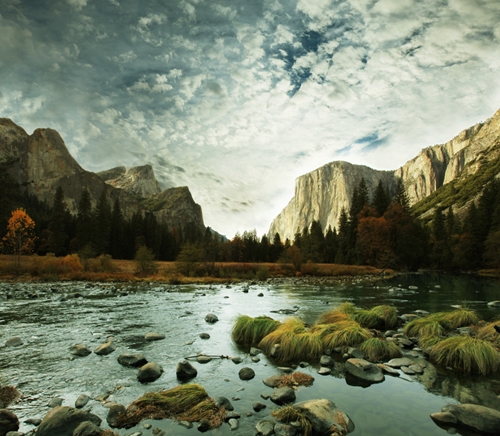 With more than 300 million visitors annually, California's Yosemite Park is a breathtakingly beautiful natural attraction, spanning over 1,200 square miles, Live Science reported. Yosemite was first designated as a national park by the federal government in 1890, and in 1984 the region was recognized as a UNESCO World Heritage Site. Yosemite is situated in the Sierra Nevada Mountain range - on the western slope, to be precise. Visitors head to the park to drink in the majesty of the landscape, observe the varied wildlife and partake in activities including biking, skiing, fishing, climbing, rafting, and of course, hiking.
If you're looking to hike in Yosemite, there are many things to consider, from clothing and equipment to route planning and so on. One factor that can make a major difference to your plans is the weather. Given the varying altitudes, atmospheric conditions in Yosemite can be highly fickle. Indeed, as detailed by the U.S. National Park Service (NPS), at its highest, the park is around 13,000 feet above sea level, with the lowest elevations around 2,000 feet. The weather can change rapidly within a single day, and conditions may differ considerably from one part of the park to another.
While it is difficult to predict the weather, reviewing a climate guide is a helpful way to gauge the conditions you are most likely to experience from one season to the next. With this knowledge you can ensure that you are best prepared for whatever Mother Nature throws at you. And of course, you can stay ahead of the weather while you are on the trip itself, by using your PRG600Y-1 equipped with barometer and thermometer.
Here is a guide to average seasonal conditions within Yosemite National Park:
Winter
Winter conditions are contingent on elevation. Generally speaking, however, the weather is cool at lower elevations, with temperatures dropping the higher you go. The NPS reported that snowfall is not uncommon in the late fall, and that in areas above 4,000 feet it can begin to accumulate as early as November. Snowfall is then routine and consistent until at least mid-March. Snowpack is often deep and extensive, with little of it melting. Snow is deepest at the highest elevations of the park, where it is not uncommon to see multiple feet of snow each winter. The amount of snowfall can be credited to precipitation trends in the region - winter is by far Yosemite's wettest season, with a majority of the year's rain and snowfall - in excess of 70 percent - falling during this time.
In terms of temperature, there is notable variance during the season, again contingent on elevation. Climates to Travel reported that the average high temperature in January in the village of El Portal is a mild 54 degrees Fahrenheit. The relative warmth in this area can be credited to the settlement's location at 2,000 feet above sea level, in a valley area. The average January overnight low in El Portal remains above freezing, at 37 degrees Fahrenheit. El Portal's comfortable winter climate stands in stark contrast to higher areas. Take Ellery Lake, for example, located at 9,800 feet. Here, the average high in January is a chilly 35 degrees Fahrenheit, with overnight lows averaging a frigid 10 degrees Fahrenheit.
The key to a successful winter hiking trip in Yosemite, therefore, is to bring plenty of warm, waterproof clothing, including hats, scarves and gloves. Shoes that are suitable for ice and snow are crucial. Dressing in layers can also make it easier to adjust to the temperature: For example, you may spend a mild morning in El Portal and then head for a snowy hike at higher elevations in the afternoon.
Spring
Temperatures can again differ markedly in the spring, depending on elevation. The lowest areas are the first to welcome warmer weather. The average April high in El Portal, as reported by Climates to Travel, is a pleasant 72 degrees Fahrenheit, although the evenings can still be chilly with an average low of around 46 degrees Fahrenheit. Ellery Lake's average high in April is much cooler, however, at just 45 degrees Fahrenheit, with overnight lows dipping well below freezing.
The NPS explained how spring is a season defined by melting snow. In accordance with temperature, the snow at the highest elevations is the last to melt completely, and can sometimes stick around until June or July. Most mid elevations lose their snow by May. Given the abundance of melting, rivers can become over-filled and the risk of runoff increases.
Given the large range in average temperatures throughout Yosemite in spring - from the 70s to the teens - packing for all conditions is imperative. Dressing in layers is again helpful as a way for adjusting to temperature changes.
Summer
According to U.S. Climate Data, average summer highs in parts of Yosemite can approach 90 degrees Fahrenheit. Indeed, summer is by far the most pleasant and reliable time of year to visit the park, with disappearing snow and warm to hot conditions. The weather, of course, still varies with elevation. For example, the NPS noted that temperatures in excess of 100 degrees Fahrenheit are not uncommon in the valley, while the highest elevations can still observe temperatures close to freezing overnight.
The NPS explained how, although summer tends to be very dry in the park - it is the season with the least rainfall on average - routine thunderstorms can bring blinding downpours. These storms are particularly common at the highest elevations. To stay prepared for these changing conditions, it is important to bring a light waterproof jacket and waterproof shoes. Your Casio Pro Trek Watch Barometer can help alert you to shifting conditions that may signal the arrival of a potent summer storm.
Autumn
Much like spring, the fall is a season of transition in Yosemite. As explained by National Park Adventures, temperatures can still be warm well into October, with highs averaging around 73 degrees Fahrenheit in the Yosemite Valley. Still, temperatures begin to decline with elevation during this time, with the NPS noting that overnight lows below freezing are not uncommon in the higher peaks of the park. Snowfall can arrive early in many places, and is often fairly widespread by November. Again, hiking in the fall in Yosemite means anticipating a mixed bag of weather, and packing accordingly.