Grand Canyon stunts you never knew about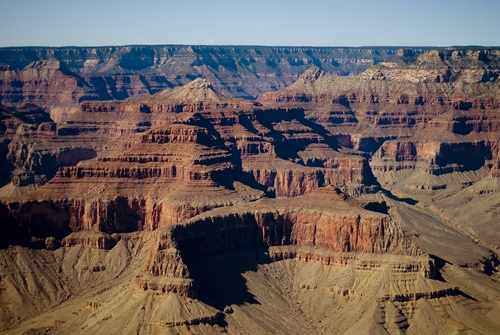 No World Wonder attracts daredevils quite like Arizona's Grand Canyon. Pilots, motorcyclists, parachutists and even tightrope walkers and have tested their mettle against the mile-deep gorge.
You might be considering a visit to the iconic landmark, much like the 5 million other people who travel to the attraction every year, according to National Geographic. When you do, consult your watch altimeter and think again about these stuntmen who challenged one of the world's massive canyons and lived to tell the tale.
The Canyon touchdown
Believe it or not, most of the Grand Canyon's stunts don't actually occur in the Grand Canyon National Park, National Geographic reported. The National Park Service has a history of denying most stunt requests simply because rangers focus on safety and the hiking experience - not attracting crowds with death-defying stunts.
Nonetheless, there was one stunt that occurred right in the heart of the park back in 1922. Pilot Royal V. Thomas landed a biplane on an incredibly short landing strip just inches away from the edge of the canyon. The landing strip was 50-feet long. Thomas became known as one of the first Grand Canyon stuntmen.
Goodbye sportscar
Unfortunately, there was no video evidence of Thomas' biplane stunt, but the same can't be said for the modern Grand Canyon stunts, all of which have been televised.
The next notable leap of faith was taken by Dar Robinson in September 1980. Robinson got behind the wheel of a Bradley GT sportscar and raced toward a ramp at a part of the canyon in the Hualapai Indian Reservation.
Robinson never intended to jump over the canyon, however. Perhaps the only excuse not to wear a seatbelt, Robinson careened into the canyon aboard the convertible and jumped out just in time to pull a parachute. He safely sailed to the canyon floor below while his car crumpled to pieces on impact.
Robbie Knievel's motorcycle leap
People often mistakenly say that Evel Knievel was the first stuntman to jump the Grand Canyon aboard a motorcycle. In reality, Evel never attempted the feat. He instead jumped a section of the Snake River Canyon in Idaho. It was his son that would successfully jump the canyon in the Hualapai Indian Reservation.
Robbie Knievel launched his 500cc motorcycle over the gorge in an event televised by Fox News. He flew down a ramp at 80 mph to build enough speed to make the jump and broke his own world record for the longest motorcycle jump in the process.
Hanging on a thread
Perhaps the most recent televised stunt, Nik Wallenda walked over a 1,500-foot stretch of the canyon on a tightrope. Wallenda was already a highly reputable daredevil. His past stunts included a tightrope walk over Niagara Falls and more recently a walk between Chicago's Marina City Towers and Leo Burnett building, which he did blindfolded.
However, when he walked across the gorge, he was traveling at heights greater than the Empire State Building, according to ABC News. Wallenda's cable was just 5 centimeters wide and around 1,400-feet long, according to Forbes. Moreover, he likely walked against gusts of wind that could reach up to 30 mph.
Wallenda's walk was televised by the Discovery Channel on a 10-second delay so that the station could cut away from the broadcast in case there was an accident. However, Wallenda told the news source that he has experience grabbing onto the cable for safety if needed. Nonetheless, Wallenda completed his walk without a harness or safety net.
There are a lot of people that like to take big risks to have the glory of being the first. However we find that getting there safe is an important plan that more people should think about. That is why you should always keep your PRG300-1A9 on you so you can have all of its great features to keep you safe.