How climate change is affecting these four species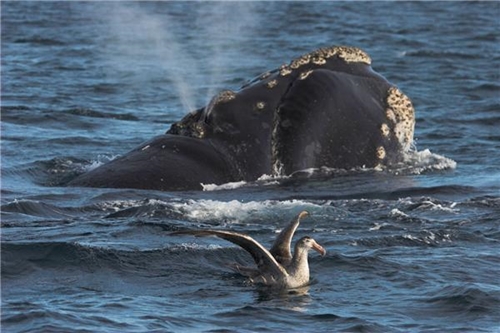 The next time you grab your Pro Trek triple sensor walk and head out for a hike, the sad reality of the situation is that many of the creatures you encounter may not be able to survive in their current state when your grandchildren do the same. These plants or animals may need to migrate as the weather changes, change behaviors or morphology or otherwise face extinction.
Here are some North American flora and fauna that will be under distress in the coming decades as a result of global climate change.
North Atlantic right whale
The oceans absorb much of the CO2 that is in the atmosphere, as well as the heat created by the greenhouse effect, meaning that aquatic ecosystems will be hit very hard by climate change. The North Atlantic Right Whale is already endangered because of over-hunting and habitat loss, and the World Wildlife Fund reported that these majestic animals will struggle to adapt to changing conditions.There are just 350 individuals at present, and because warming waters will reduce the number of plankton -the main food source for many whales- this species and many others will have trouble moving forward.
Baltimore oriole
This iconic species may not necessarily go extinct as a result of climate change, but as the world gets warmer, it may not be found in Maryland, despite being the state bird of the Old Line state. A seven-year study conducted by the National Audubon Society found that by 2080, the Mid-Atlantic region may be too hot for nesting migratory birds. Instead, they will likely be forced north into New England and Southern Canada, along with many other species of song birds.
Oak tress
The American Forest Organization stated that the deciduous trees in wooded areas of North America are very vulnerable to climate change. Warm weather may kill-off older individuals, and just 21 percent of tree species are spreading north to deal with rising temperatures.
Oak trees, however, seem to be defying the odds, and are one of the few groups that are successfully adapting to global warming. Not only are young seedlings spreading to northern areas or higher altitudes, but it appears that the trees are exhibiting cold-weather genes that may have laid dormant in populations found in southern states. As a result, northern subspecies are seemingly lending these genes to other varieties, but without compromising genetic diversity.
Moose
One of the continent's most beloved species is under particular duress from climate change, the National Wildlife Federation reported. In some states, moose populations have been cut in half in just a few decades, likely as a result of global warming. The moose themselves are negatively affected by heat, which stresses the animals and leads to weight loss, infant mortality and disease. On that front alone, the animals are threatened by a changing climate.
Shorter, warmer winters bode well for ticks and other parasites, which have been ravaging moose populations. Individuals have been found with over 150,000 ticks covering their bodies, and in the winter of 2014, researchers in New Hampshire saw 64 percent of radio collared calves die as a result of tick infestations.
To compound the issue further, as the composition of North American forests change due to rising temperature, moose will be forced to adapt to new food sources and environments on top of the issues that they currently face. They are a good example of how detrimental climate change can be. It's not just one or two specific issues, but a whole portfolio of new challenges that can push plants and animal species closer to extinction.
Our environment is a very delicate place that needs to be taken care of so that wildlife can prosper for years to come. Explore everything Mother Nature has to offer by going on a hike with your ProTrek PRG270-7.