Important campground etiquette reminders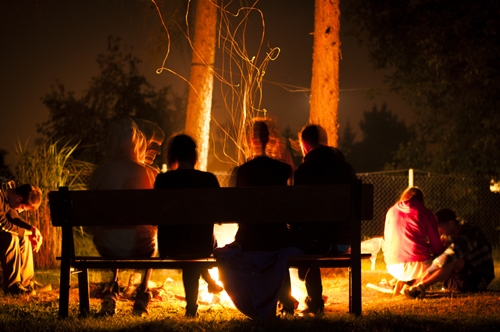 Campgrounds are a great place to set up shop for outdoor adventuring. These are easy locations to pitch a tent without worrying about getting lost or having access to a restroom. Around state and national parks, campgrounds can get rather crowded, so knowing how to behave and avoid any conflict is important before your next trip. Here are a few reminders about expected etiquette and common courtesies:
Power down early
Many outdoor activities are best enjoyed early in the morning, and in any event, many folks at your campground will likely go to bed on the earlier side. That doesn't mean you and your family need to change your own bedtime, but loud activities should be kept to a minimum. As A Little Campy reported, many campgrounds have designated quiet times.
Keep an eye on your Pro Trek PRG300-4 watch with Triple Sensor technology and as the evening turns to nighttime, begin to transition to calmer activities. These means powering down bright lights and discontinuing any loud music or activities. Your neighbors will be thankful of this gesture.
Clean up after yourself
An unsightly campsite can be upsetting to fellow patrons, and you should always make sure to keep your gear organized and orderly. This includes waste and trash. Not only can left behind garbage or food scraps be very unsightly or stinky, but wild animals may also take notice. Being the person that lures a skunk to the campground can be a very embarrassing situation, and larger, more dangerous creatures may be attracted to your waste as well.
Keep an eye on your children or pets
Some campgrounds can be impressively big and offer all sorts of amenities like dog parks or playgrounds. For that reason, your entire family can find something to enjoy. Discuss how to stay safe with your children before sending them off to explore, but also make sure to discuss common courtesies and the importance of being polite and cordial with other campground visitors.
Your dog, meanwhile, may be excited by all of the sights and smells, and it is important to keep him on a leash. Even the most well-behaved pooch can have an energetic reaction to so much activity. Likewise, some of your campground neighbors may have an allergy or be fearful of dogs, which makes keeping yours close by even more important.
Leave some firewood behind
According to Active, leaving firewood at your campsite for the next visitor isn't necessarily an expectation, but is nonetheless a very nice gesture. This is because many folks don't arrive at the campground until later in the day or night, which can make gathering enough dry timber to start a fire a little difficult.
It is also important to remember that most campgrounds do not let visitors bring their own firewood. This is because firewood bundles are the perfect home for invasive insects. For that reason, leaving a few pieces behind for the next patron is an especially kind thing to do.