Take a hiking vacation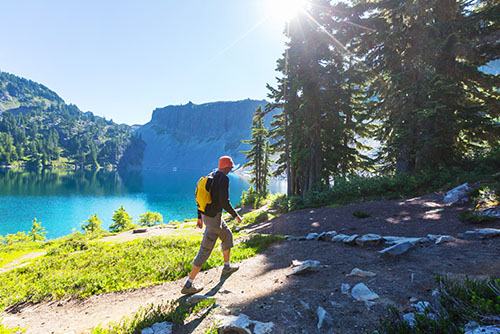 Relaxing on a beach is the typical vacation choice for many. It's a departure from the every day, a chance to literally switch off and enjoy nothing more than beautiful scenery. Yet many hikers would balk at the idea of sitting around for their vacation. Time off means time to head out and explore. Fortunately for those who regularly have the urge to trek, there are plenty of ways to have an active vacation and yes, one that does involve hiking.
If you're willing to pack up your gear and rough it in a foreign location - not necessarily overseas - you can plan out and execute a hike anywhere in the world.
You'll need to plan first
Hiking on vacation can be something simple, for those less adventurous. If you venture to places like Arizona, Montana or Colorado, you can ask your hotel concierge for a guided map of local, manageable hikes, and you may not need to bring anything more with you than a small pack and your Smart Outdoor Watch. This, naturally, takes minimal planning, other than which state you wish to visit. However, those who want to do longer hikes and make it the bulk of their trip will first have to decide upon the trail and plan out a route. Then, you must organize your equipment - will you plan on camping overnight at a site, or en route? Can you rent gear nearer your destination? And can you take everything through security, if you are flying? These are important questions to ask in the early stages to avoid scrambling for items once you arrive; you want your trip to go as smoothly as possible.
Remember the boring stuff
It's all too easy to get excited about where you're going, but you don't want to get caught on the trail without the essentials. Trip Savvy said this means making a list, checking it three times, and considering items like a first aid kit, non-perishable snacks - you don't know what you may find once you arrive - and plenty of layers. Additionally, sunblock, lip balm bug spray and binoculars may seem like no-brainers, but these can be easily forgotten, and very helpful while out on the trail.
Look far afield
If you have plenty of hiking experience and are accustomed to carrying your gear, you may want to consider an adventure abroad. Hikers with wanderlust can heed suggestions from the Huffington Post, which recently did a piece on outstanding international hikes. Feeling the urge to head to South America? The Inca Trail hike to Machu Picchu is considered to be a once-in-a-lifetime experience traversing 26 miles of ruins, jungle and mountainous scenery. You'll have to take time to adjust to the altitude, but the hike will be worth it.
It's a dream of many to visit Everest Base Camp in Kathmandu, Nepal, and not a hike for the fainthearted. The source noted that spans 70 miles and generally takes around 16 days to complete, so expect to be on the move for three to six hours per day, in addition to coping with high altitudes.
No matter where your feet take you, there will be amazing scenery to behold. All you need is your sense of adventure - and an organizational mindset - and this passion can send you anywhere in the world.