5 essential items for camping in a storm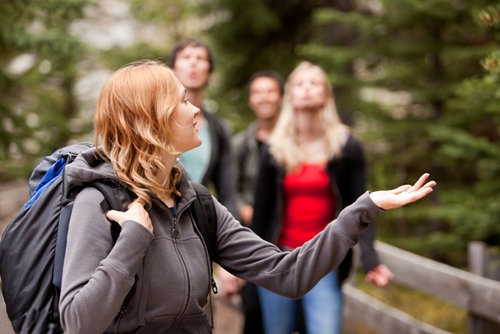 Nature is unpredictable, and you never know when you could get caught in a storm while on a camping trip. A watch barometer may alert you when inclement weather is imminent, but it's up to you to be prepared when the storm hits.
There are some rainy weather essentials every outdoorsman should bring on the trail. You may not need the items for the majority of your trip, but when those dark clouds start to roll in, that forward thinking and preparation will pay dividends.
Storm-proof matches
Have you ever gone through a book of matches because each one you light blows out in the wind? That won't happen with a set of storm-proof matches. They're specially made with a coat of chemicals that won't go out until completely burned through. Short of lighting a campfire in a typhoon or in the heart of a tornado, these fire starters are almost guaranteed to get the job done.
Tarps
It goes without saying that staying dry while camping in a downpour is absolutely essential. Getting wet means getting cold, and that's a good way to get sick or worse. Tactful tarp placement can shed water away from your tent or give your campfire area a little added protection, provided you plan for proper smoke ventilation.
Rope
Of course, tarps won't go a long way without rope. String your tarps so that water is angled away from the campground. Luckily, most hiking enthusiasts know the value of a generous length of rope. It can be used for carrying bundles of wood or for putting up a line after the storm has passed to dry your clothes. Moreover, there are dozens of emergency situations where a bit of rope can act as a lifeline.
Weather-resistant tents
When a storm is on the horizon, you want a tent that can do two things: stand firm in the wind and keep you dry. The former depends on the ruggedness of the tent's frame, the latter depends on how weatherproof the outer layer and ground sheet are. Buying a second ground sheet is an appropriate way to fight off dampness. In a pinch, you can lay a set of blankets below your sleeping bags for extra insulation.
Remember, tent placement is also pivotal when it comes to braving bad weather. Look for areas that offer protection from the wind and rain. Also, high ground tends to serve campers better, as water often collects in low dips. If you want to reduce the amount of time you spend in the elements, place the tents reasonably close to a latrine. The less time you spend traveling to the bathroom, the less soaked you'll get in a downpour.
Portable heater
And when even a second ground sheet and some insulating blankets can't save you from the damp cold, a portable heater has you covered. However, it's very important you get the right type of heater. Some units can cause a significant risk of carbon monoxide poisoning, and using one in a closed space - like a tent - can be very dangerous.
Before purchasing a portable heater for camping, make sure to read its product packaging and operating instructions to ensure it is safe for indoor use. There are many portable propane heaters that are approved for use indoors. Nonetheless, it's a safe idea to use the device in moderation and keep the symptoms of carbon monoxide poisoning in mind. If you begin to feel dizzy, nauseated, weak, confused or develop a headache, you may consider turning off the heater for safety's sake.
In order to prepare for storms while on your camping trip, it's important that you're aware when a storm is about to roll in. Protrek's PRW3500-1, comes complete with a watch barometer, that predicts changing weather patterns, and is 100M water resistant just in case you get stuck in that unpleasant storm.