5 high-tech outdoor gadgets you should know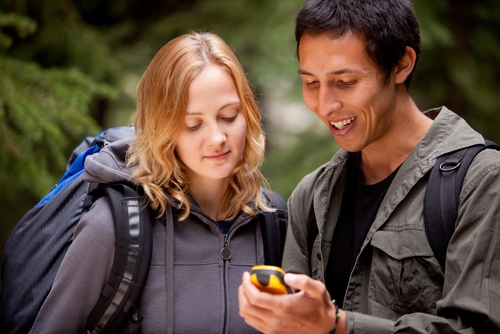 In the canyons of Yosemite and the untouched wilderness of the Yukon, nature and the elements can be difficult to overcome. Oftentimes, it all boils down to using more brain than brawn, and that's why many outdoorsmen choose to carry a few helpful gadgets with them on their journey.
If you're a nature lover with a fondness for tech, here are seven modern devices just for you.
1. Cenoté by Polar Bottle
Hydration is incredibly important while you're out on the trail, but bulky water bottles are a hassle to store and lug around. At the same time, hydration bladders are easier to carry but tough to clean and reuse. That's why Polar Bottle invented one of the first inexpensive and recyclable hydration packs. This plastic device will help you quench your thirst for cheap without guilt-racking environmental consequences.
2. BioLite CampStove
​A fire that can charge you smartphone and other personal devices may sound too good to be true, but that's exactly what the BioLite CampStove was made for. Instead of relying on fossil fuels, car batteries or slow solar cells, the BioLite CampStove turns the wood you find in the forest into energy. Moreover, it works super efficiently, producing virtually no smoke and making it easy to cook food and boil water. This is the type of gadget made for a camping trip.
3. NiteBlaze reflective running gear
That orange vest will make you stand out to drivers while running at night, but it's hardly a fashion statement. That's where 180s' new reflective technology comes into play. The company's line of NiteBlaze running gear reacts to direct light. So while a lightweight jacket, shirt or tank​ top may look like one solid color regularly, it will light up with a distinctive pattern once those headlights shine on it.
4. Heimplanet Inflatable Cave Tent
Forget that complex assortment of metal rods you need to link together to build your normal camping tent. All the Heimplanet Inflatable Cave Tent needs is an air pump, and it sets up in record time, according to the company's website. Unroll it, inflate it, and you'll have a three-person shelter in no time, which means you can save energy after a long day of hiking.
If you may think an inflatable tent may be delicate, think again. Heimplanet put their product through wind tests that showed how stable the tent is even in 75 mph weather. Even in gale-force conditions, the makers state that there are no parts that could break.
5. Use a watch you can trust
Smart watches may be the next hot topic fashion statement, but that doesn't mean they're ready for the great outdoors. After all, lengthy battery life and connectivity is never a sure thing on a hike. Focus on a watch you can trust as a source of helpful information on your adventures. A handy watch compass can keep you on the right course, a watch barometer can warn you about imminent bad weather and a watch altimeter can help you keep track of altitude during a mountain climb. There are plenty of durable modern devices every survivalist should have on his or her wrist.
Explore new places and spaces all across the globe with ProTrek's PRW3000 series watch! It comes complete with a compass, barometer and altimeter, not to mention it's shock and water resistant, making a great travelling tool.