Essential features of a great hiking backpack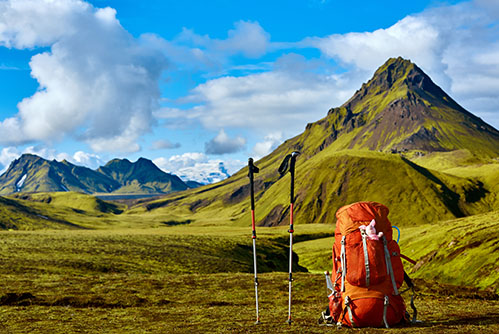 Proper apparel and equipment are incredibly important for any successful hike. Arguably, the most important piece of outdoor equipment is the one that holds them all together - your backpack. (Although we'd definitely say that a WSD-F20 should also be at the top of your list.) Regardless, it's undeniable that if you lack the necessary storage for the rest of your gear, water and provisions, your next hike will be a pretty dismal experience.
With that in mind, let's go over some of the key considerations for a good hiking backpack.
Size matters for a hiking pack
As you might expect, many of the most important factors to check when shopping for a new pack are spatial. How big is it? How heavy? How much can it carry? We'll start by examining these one at a time:
Length: According to The Adventure Junkies, a good backpack should match your torso length, which is the distance between your hip bones and the C7 vertebra in your neck. Tall hikers will probably want a larger pack of 20 inches or more in length, while 16 to 17 inches should be ideal if you're shorter.
Weight: While this will be one of the heaviest things you carry on a long hike, it's important not to choose a backpack simply because it's lightweight. Adventure Junkies explained that a light pack will ultimately put more strain on your shoulders because it's not designed to be filled up. Instead, try to find a happy medium.
Volume (and capacity): You'll need a fair amount of space, but not so you can overburden yourself with needless items. The backpack's volume, typically measured in liters, should be sufficient to hold necessary gear and provisions for the duration of your hike. Clever Hiker stated that a 40-50 liter pack will be more than adequate for experienced backpackers or those who aren't traveling for multiple days. Longer hikes might need something bigger, like a 60-80 liter pack.

Design and durability
Bells and whistles - figuratively speaking - might be attractive in a smartphone or new car, but they're unnecessary in a hiking backpack. According to Clever Hiker, it doesn't matter what the pack looks like or how many compartments it has. Packs should be designed for comfortable fit whether fully or halfway packed, by distributing weight from top to bottom so no part of you is overburdened.
Many well-regarded hiking backpacks are made of ripstop nylon, a material with an established reputation for durability in even the most rugged terrain and extreme climates. Others, which are typically more expensive, use a synthetic cuben fiber called Dyneema that is even more water resistant and lightweight than nylon.
Price points
You can expect to pay between $180 and $200 for a lightweight backpack that will last you enough time to be worth the investment. Larger packs, such as 70- and 80-liter models, are likely to cost more, as are high-end packs with the most durable materials.
On the surface, the price you're willing to pay requires making a simple choice: Do you splurge on a "backpack Cadillac" in the hope that it lasts for many years and thousands of miles hiked, or save money by purchasing a less expensive model that might not stand up to as much punishment at the hands of the elements?
In fact, it's a bit more complicated than that. If you don't hike on a fairly constant basis, buying a truly pricey backpack would be silly, so consider this before putting any money down. True outdoors aficionados, by contrast, will benefit from investing in a top-of-the-line pack now and not having to replace it every year or so.