Essential items to pack on your outdoor adventures this fall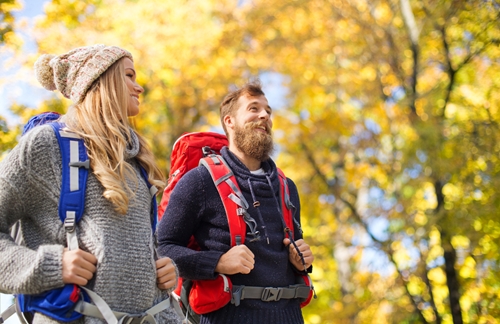 Autumn is a very inviting time of year to get out and explore. The weather is cooler and in many parts of the country, the changing leaves make for impressive scenery. Unfortunately, fall can also bring a bit of danger and new challenges for outdoor adventurers. By bringing along the right gear and equipment, however, you can mitigate any risk, stay safe and enjoy your hike, bike ride or other pursuit. Here are some items to pack on your next autumn outing:
Water resistant clothing
As the Active Times pointed out, water resistance should be a major consideration when selecting the right clothes for your trip. Flannel or wool tops and regular blue jeans may feel like an appropriate choice, but these can be very difficult to dry once they are wet. And because the temperatures are significantly cooler in the fall, the woods can remain very damp many hours after a rain storm.
Look for pants and jackets that are water resistant, and chose a pair of shoes that also does well in wet conditions. Wet clothes can being irritating but also lead to hypothermia, and items that will keep you dry are much more preferable.
Layers
Weather in the fall can be a bit unpredictable, and even on clear days, the temperature in the afternoon can be notably higher than it is in the morning or evening. For that reason, another key to success when adventuring in the autumn is to pack layers. This means an extra jacket or even a pair of shorts. This way you can stay comfortable. Like getting wet from rain, sweaty clothes can also leave you vulnerable to hypothermia as the temperature drops.
Extra socks are especially key. Wet feet can ruin an otherwise enjoyable day out, and being able to slip on a new pair of socks can alleviate even the most sour mood. Gloves, hats and other warm weather clothes are also a wise investment.
Emergency supplies
Autumn can see volatile weather, which can be a serious hazard, especially for anyone hiking or camping in remote areas. Snow squalls or rain storms can make travel difficult, and you could end up spending an extra night in the woods. The Washington Trails Association stated that it's best to bring a multi-tool, map, compass and other items on any trip, and in fall this could be especially important. Extra food and an emergency blanket are also smart to bring along. Use your Triple Sensor PRG300-4 Pro Trek to keep an eye on changing conditions. A drop in pressure could mean a coming storm, and in that case it may be best to change your plans. Also be sure to tell someone your itinerary before heading out.
A camera
The autumn isn't always doom and gloom, and nature puts on an amazing display of color and beauty. A smartphone or camera is a great way to document your trip and take advantage of what the season has to offer. Find the most colorful tree or use a landscape angle to take in the breathtaking scenery.