Picking the Right Hiking Boots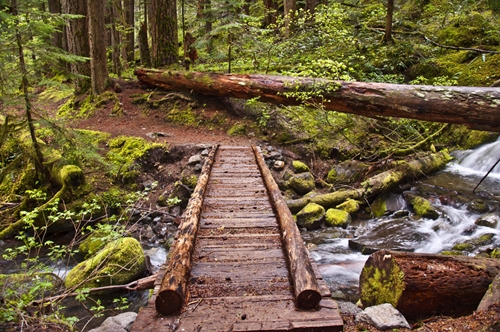 If you're the type of person who avoids hiking in higher temperatures, fall will be just the opportunity to hit the trails, especially with your WSD-F20 equipped with GPS and thermometer to keep track. Maybe you're even planning your first hike in a while. Whatever the reason for hiking, the right boots can, quite literally, make or break your hiking experience. Those in the market for a new pair of boots, looking for their first pair of boots, or just want to know why they get so many blisters may want to pay a bit more attention when selecting and purchasing their next pair of hiking boots.

There are "more choices than ever" for hiking boots and hiking shoes, according to Backcountry.com. Before you end up standing bewildered in front of a hiking footwear display, try to get a sense of what you're after. The news source suggests that you consider the primary use of your hiking footwear to determine if you need hiking shoes, boots or backpacking boots.
Hiking shoes are best for individuals who tend to go on shorter hikes and who prefer "well-defined" trails, rather than superbly rugged terrain, as Backcountry.com explains. Meanwhile, those who prefer longer hikes should opt for hiking boots. These offer greater support and are therefore better for a beginner or someone who needs more stability - for instance, they may have weaker ankles and less-defined muscles. According to the source, if you're into very long hikes and regularly carry a bunch of weight in your backpack, you should purchase backpacking boots. Like the name suggests, these boots are suited for backpacking and multi-day hikes. They are "taller and stiffer" than other hiking footwear, providing the greatest support for all kinds of terrain, including mountainous ground, in some cases.
The search for ideal hiking boots doesn't end there. Backpacker.com explained features of some of the styles commonly available to hikers: Boots can be made for "trail" needs, which calls for light day-trip hiking with little or no weight on your back. Rough trail boots are better for "aggressive day hiking," and tend to be ankle height. Off-trail boots are for incredibly undefined paths and rugged ground, while mountaineering boots are tougher - they have some insulation, can be made of leather and tend to be more rigid to support the foot. Finally, the news provider highlights boots known as "technical scrambling," and these are made for light hiking and scrambling as they tend to have good grips.

To help avoid blisters, hikers should pick boots that feel "right" and that aren't necessarily their usual shoe size, the news provider ads. Additionally, the right socks are also important; look for seamless socks, and try the socks you will wear hiking with your boots while in the store. Otherwise they may fit drastically differently when you arrive home and try them out.
The best idea overall is to ask fellow hikers for advice, when it comes to brands and styles. However, try and be honest with yourself about the kind of hiking you will be doing, and you will be on the right path towards a great pair of hiking boots. Pun intended.