Selecting the right devices to bring on your next outdoor adventure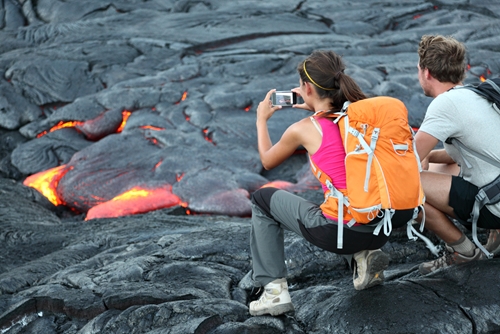 Usually we hit the trail as a way to escape the hustle and bustle of modern life. But the reality is that some technologies can be useful companions during your next outdoor adventure. Certain devices make a trip more exciting and enjoyable while others can be useful for keeping you safe.
Your smartphone
According to a recent Gallup poll, 52 percent of Americans check their phones one or more times every hour. Hiking or camping represents a chance to limit screen time.
That said, there are many different mobile apps that actually enhance your experience. For example, platforms for identifying constellations brings the night sky to life. Other apps make it easy to share a favorite photo from your trek.
It's also important to note that many smartphone apps can help keep you safe. Downloaded trail maps make it possible to avoid getting lost, and there are dozens of apps dedicated to first aid. Your best bet is to use your phone sparingly but still take advantage of the most helpful resources.
An e-reader
Checking your mobile device every few minutes can undermine your ability to connect with nature. And even with apps geared toward outdoor adventure, it may be the case that you want to fully unwind.
In that instance, an e-reader is a useful piece of technology. It offers the same comfort of enjoying a favorite book around a campfire but in a more efficient manner. These devices can also store useful field guides and other tools that are great for the outdoors.
Wearable technology
Hitting the trail is a wonderful form of exercise. And although Fitwatch found that an average-sized adult can burn between 400 and 500 calories in an hour of hiking, nowadays many people want much more specificity when they get active.
Wearable fitness trackers give users an unparalleled look at the quality of a workout, and make for great accessories to bring on an outdoor adventure. Just make sure to select a model that is rugged and waterproof.
A drone
In recent years, small personal drones have become more affordable and easy to use. Many of these devices are equipped with small but powerful cameras, providing new perspectives and opportunities to take breathtaking snapshots or video.
If you are bringing a drone on your next trip, there are a few things to keep in mind. First, make sure the weather is going to cooperate. Second, reach out to a park ranger or staff to learn about any rules or restrictions. Finally, recognize that there is risk in bringing your drone out on an adventure. Something could go wrong and you could end up damaging, breaking or losing your drone.
Something simple
Instead of fumbling with car chargers and searching for service, some devices can offer plenty of use in the bush in a simple and reliable way. A PRO TREK PRG600Y-1 Trip Sensor watch makes it possible to monitor the weather, find your bearings and keep an eye on the time without worrying about a smartphone or other mobile device.
No matter what technology you chose to bring, make sure you weigh the risks and the rewards. Likewise, don't let any device distract you from enjoying the great outdoors.