Some solid apps for hikers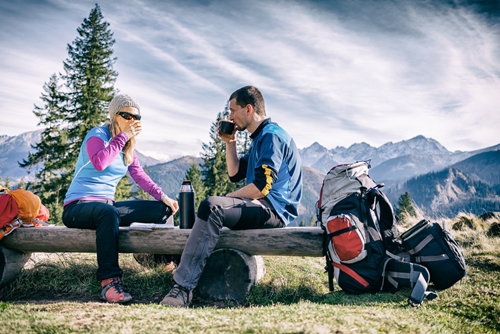 Sometimes out in the wilderness, you can pick up a Wi-Fi signal. Since this isn't guaranteed, it is beneficial to bring a Pro Trek Smart Watch. However, many hikers like to research their routes beforehand, or check out the exact terrain hiked after the trek has ended. When you can finally hop back on the internet, it can be a great idea to grab one or two hiking-related apps to learn a little more about your travels, and potentially plan out your next hike or two.
Learn a thing or two
According to AFAR, you can grab an awesome app to help plan your routes and one to help you plan what you can eat, if you are trying to watch your diet. Take Map My Hike for example. Designed for the health-conscious, the app with track your travels and report back the number of calories burned during your efforts. Dedicated to your health? Users can also log in their eats, sync to a personal fitness device, and for an added cost pick up perks like heart rate analysis and personal training plans. Workout junkies will likely love these perks, and what's better than getting out of the gym and into the fresh air?
Prefer to learn about the peaks you'll climb? The aptly-named Peak Finder - which is free for both Android and iPhones - will tell users the names of all the hills and mountains nearby. Simply hold the phone with your app open up to the landscape (much like the way you use an astronomy app, the source suggested) and it will give information about the mountains spotted through the screen. Learn names and places you didn't know existed, and perhaps plan your next trip around a curiously-named peak.
Planning your dream hike may be made a little easier with Google Treks. The source noted that it isn't exactly an app, but it is a feature that enables Google users to see photographs of more remote destinations and locations. If you're building a hiking bucket list, take a look at some of the places you can eventually reach, posted by those who have actually already been there.
Discover new routes
Some people discover new trails by word of mouth, others prefer to get their information from books or the Internet. Now you can grab an app or two to highlight some new - or familiar - places to hike. Tom's Guide presented a range of apps for the trail-happy. All Trails has more than 50,000 trail guides for new and veteran hikers and it also includes topographic maps (so you can see how strenuous the hike will be), trail photos and reviews. Users can also add their own snaps to the collection, leaving your footprint off the trail and where it belongs.
Maps 3D Pro is another free app offering that lets hikers see the exact trail routes before heading out into the wild. According to the source, this app will display maps in a 3D format, so you can literally watch how a trail will wind up and around a mountain. Additional features include the ability to save future routes, plan where they want to go and record their trip.
Technology-savvy hikers can up their game with a couple of neat and novel apps. You still really only need a compass, boots, a sense of adventure and sustenance to hit the trails, but modern devices do certainly make it all the more interesting.