The what and how of campground waterproofing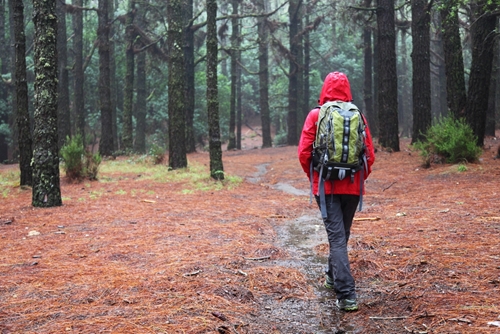 Whether you're fighting against a typhoon, some river rapids or a gentle drizzle, it's critical that you keep some of your camping supplies safe and dry.
That watch compass is water resistant, so don't worry too much about the rain. Then again, you could go jet skiing without a care if you're strapping on a Casio with 200-meter water resistance.
Nonetheless, most of your camping supplies don't offer the same wet weather peace of mind. Here are a few quick and easy fixes to keep you valuables dry.
Always invest in a waterproof tent
When you're out tent shopping, look for a few waterproof guarantees on the packaging. Make sure it mentions a waterproof coating. If you want to take it a step further, check the material yourself. You want a product with tightly sealed seams and a bathtub floor. That's the name for the threshold that sticks up at the base of the door and prevents water from coming in off the ground. A tent that comes with a fly sheet is preferred, but there are ways around it.
You need a tarp
If you're pitching a tent in a drizzle, the whole thing will get soaked before you know it. That's why carrying a tarp with you is so important. You can use it as an extra groundsheet for further protection against damp grass and dirt, and you should use another to canvas your tent-pitching area before you start building.
Moreover, you can use a tarp to quickly protect an eating area or the latrine area from steady rain, but take caution. That material will blow away in the wind if a storm breaks unless you secure it very carefully.
Seal up your small items
A leaky tent will compromise all your belongings, but even after it's safely sealed, your other items could be ruined while you're out exploring and hiking. If you want to stay protected even in the wetlands, you can either buy special waterproof items or waterproof them yourself using vacuum seal bags. Vacuum sealers are a hiker's best friend because they help save space and protect from the elements. Here are a few things you can vacuum seal for easy waterproofing.
Seal up your foodstuffs
This one goes without saying. Not only can an airtight bag help keep you snacks fresh, but it's a perfect solution for keeping things like bread, meats, jerky and other camping favorites from getting soggy. Seal them. Save them. Stop worrying.
Protect electronics
Too many hikers struggle with their cell phones before jumping into the canoe or doing anything in the water. On one hand, you really want to keep your valuables safe. On the other, you can't call for help without a phone or take pictures of all the beautiful waterside scenes. If you find some appropriately durable bags, you can seal up that phone, take it with you and never fret about moisture again.
Here's another expert tip. Find a vacuum sealer that can close up the bags without sucking all the air out. This way, you can seal up your phone but leave a little pocket of air inside. If your device goes overboard on the lake, it will float to the surface with enough air inside. You just kicked your hiking experience up a notch.
Keys, cards and other valuables
Any papery items, like a deck of cards, should be either laminated or sealed before the trip. Even a little moisture could ruin them. Also, the same trick you used with the pocket of air and a vacuum sealed bag can protect other valuables you take on the water, too. Car keys, wallets, jewelry - it can all be protects and brought along if you take the right steps beforehand.
The PRG270-7 was designed to for outdoor gear performance. With tons of great features to help you while you explore the outdoors.