What to wear for cold weather adventuring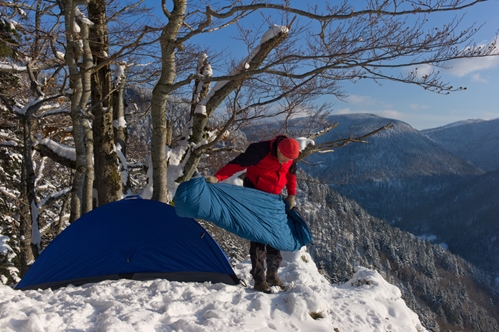 With fall in full swing, temperatures are definitely on a downward trajectory. While that's good news for your favorite winter sports, it can make some of your outdoor adventures significantly more challenging. A weekend camping trip or a hike on your favorite trails can be far less enjoyable when you're struggling to stay warm or dealing with wet boots and clothing.
However, low temperatures and extra precipitation don't have to put a hold on your favorite outdoor activities. Whether you're camping, hiking or backpacking, use this guide to make sure you dress for success when adventuring during cold weather.
Dress in layers
Whatever your activity of choice, dressing in layers is critical when you plan on being active outdoors in cooler weather. While that big, puffy coat may feel good during your first few steps out of the car, after a mile of hiking uphill, you'll be happy to peel it off and depend on your lighter layers underneath. REI recommended starting with a base layer of synthetic and merino wool fabrics that will keep whisk perspiration away from your skin. Insulate your body with a middle layer made of fleece or a similar material, and finish with an outer layer that is both waterproof and windproof, but still breathable. If you anticipate extremely low temperatures, you may want to double up on the base layer and invest in a high-quality outer layer.
Choose the right shoes
Unless you want your planned activities to come to a screeching halt, pack footwear that will hold up under less than optimal conditions. While your boots don't need to be expensive, they should be waterproof or at least water-repellant, especially if you're planning for snow, Popular Mechanics magazine reported. If you need to invest in a new pair to get through your upcoming cold weather trip, make sure that you break them in before you leave. The last thing you want is a bunch of blisters when you're trying to enjoy your time in the great outdoors.
Don't forget accessories
It's the clothing details that can really make or break your trip. For example, the American Hiking Society emphasized that it's important to wear a hat during cold weather to avoid losing body heat, so make sure that your favorite beanie makes the packing list. Gloves with liners are also critical for staying warm when the temperature drops. Consider bringing a few chemical heating pads for some extra warmth if you'll be out in below freezing weather. And always pack an extra pair of socks. There are few things more miserable than trying to stay warm when you're stuck with wet feet. You'll be happy you packed a spare pair!
Whatever the weather, your favorite Pro Trek watch is a must. The watch compass will keep you headed in the right direction and the watch thermometer will help you monitor the dropping temperatures.
When you're looking to go on an adventure - prepare for the worst with the Pro Trek PRW3000-2B. The PRW3000-2B solar powered watch will prepare you for just about anything Mother Nature throws your way with features such as thermometer, compass, and so much more.