What you should look for in hiking footwear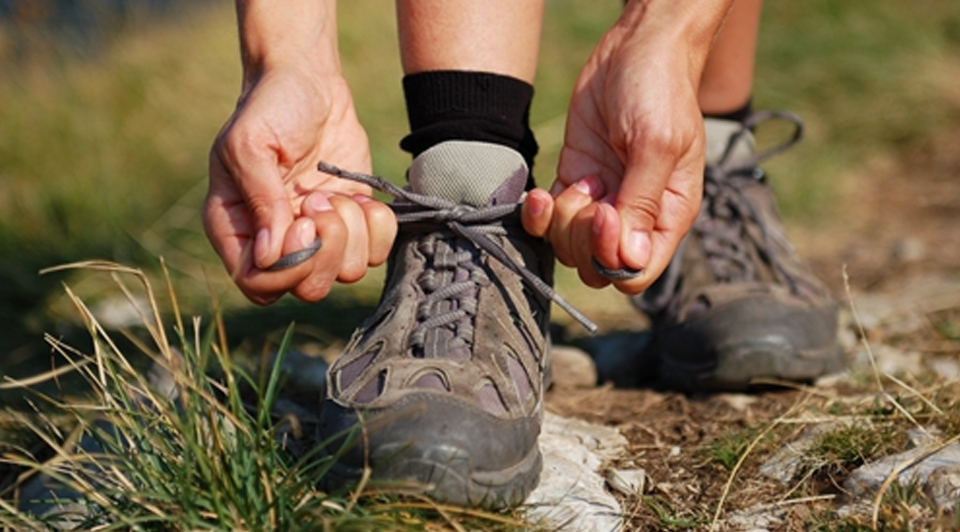 Whether it's moisture-wicking clothing or your watch compass, what you wear while hiking can be important to your comfort, safety and overall journey. One of the most important aspects of wilderness attire is your footwear. You need a pair of shoes, sneakers or boots that'll protect you and improve your trip. Here are a few of the most important features to think about while searching for the right hiking footwear.
Ankle height
The height of the ankles on your hiking sandals, boots or shoes can do a lot to protect you from injury or improve your comfort. Outdoor store The Clymb recommended no-ankle or low-ankle footwear, like trail running shoes, for people who have strong ankles, light packs and an easy walk ahead of them. These may be more comfortable on a hot day but do little to give support or prevent injury.
Mid-height ankle boots can be a bit lighter than larger options and usually stop around your most prominent ankle bone. Although these boots don't offer optimal protection, they're better for some terrain and sturdier than no-ankle options for people with bad ankles. The most protective are full ankle boots, which go high above the ankle and are best for bad weather, rough terrain and heavy loads, according to The Clymb.
Waterproofing
If you're planning to hike in rough weather, through streams or for long periods of time, you'll likely want waterproof boots. However, as Sierra Trading Post explained, day hikers may be perfectly happy with lighter, more breathable shoes that aren't waterproof. Anyone who fishes, hunts or lives in snowy conditions should consider waterproof options for their footwear.
If you decide on waterproof boots, there are a few options, Sierra Trading explained. Breathable waterproof linings made of materials like Gore-Tex keep your feet dry, but not your boot. The outside of your boot may get soaked, but your feet should stay dry - which can be heavy and annoying in certain scenarios.
Waterproof leather uses one of several forms of external waterproofing to protect itself from water on the exterior. Construction waterproofing describes shoes that are designed to be waterproof at the seams, eyelets and other structural areas. All of these designs can be enhanced with an extra layer of durable water-repellent treatment from protective chemical solutions.
Weight
This is one of the simplest aspects of a boot to analyze. A lighter boot will allow you simpler range of motion, while a heavy boot can slow you down. ABC of Hiking called every one pound of boot weight added the equivalent to carrying five more pounds of pack weight. However, some heavy boots may offer better rigidity or durability as a payoff for their great weight.
The sole
The support of you boot comes from several places, REI explained. The shanks and plates are inserts between the midsole and outsole that offer protection from shock and bruises from the materials underfoot. Outsole are the bottom of your boot and give a variety of lug patterns for better traction. The heel brake also is part of your outsole and should make stopping easier. The midsole also can affect your comfort and foot support. Talk to an expert if you have foot problems or will be walking a long distance. Boots are designed for specific purposes with support greatly in mind.
Other considerations
There are many factors that can determine a great shoes, but most people want something they can trust, that will last, that feel comfortable and that will protect them. Consider the lace-up style, the design, the materials used and your purpose for the shoe before settling on an outdoor footwear.
Making sure you have the right gear to accompany you on your hiking trip is essential. The footwear you wear may be an important part but the tools you bring are just as important. Make the PAG240-1 part of that. With built in features that include a digital compass, altimeter, and barometer while still being water resistant, it can handle any hike you can. It's always better to be prepared for the worst. Go pick up the PAG240-1 today!